Jump to recipe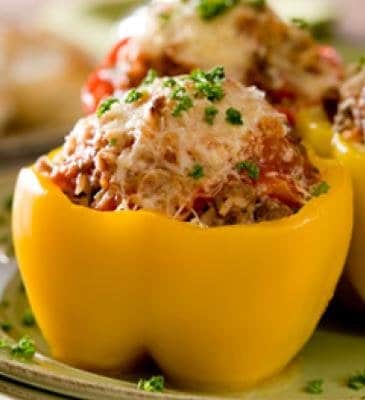 Ground Turkey Stuffed Peppers

Ingredients
1/2 lb ground turkey
1/2 lb ground beef
2 eggs
1/2 cup uncooked rice
1 onion, diced
1 tbsp Worcestershire sauce
2 tbsp dried parsley
1 tsp black pepper
1 tbsp minced garlic
4 bell peppers (choose your favorite color!)
Sauce:
1 (8oz) can tomato soup
1 (8oz) can tomato sauce
1 (8oz) can diced tomatoes
1 heaping tbsp sugar
1/4 cup grated parmesan cheese
Instructions
Cook rice then knead it together with remaining filling ingredients. Cut tops off peppers and fill each one. Place in your slow cooker or a large stove-top pot. Mix together sauce ingredients. Top each stuffed pepper with sauce and pour remaining sauce all around the stuffed peppers. Cook on medium/low for about an hour. Top with grated parmesan cheese and a little parsley for looks and serve warm.
Recipe and Photo: Foodista / CC BY