Jump to recipe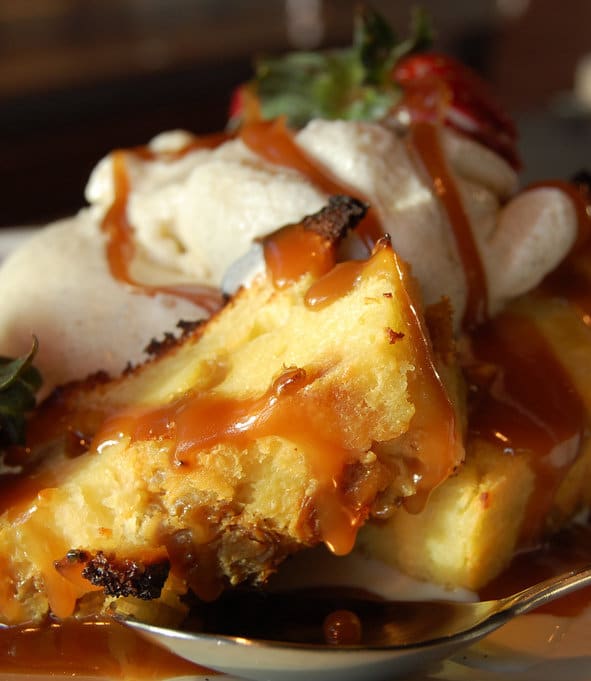 Gooey Butter Bread Pudding

Notes
The baguette cubes can be oven-dried instead of air-dried. Spread the cubes on a baking sheet and place in a 200-degree oven for about 20 minutes or until golden.

Ingredients
1 large egg
1 large egg yolk
1/3 cup granulated sugar
2 1/2 tablespoons brown sugar
1 1/2 teaspoons vanilla
1 1/3 cups heavy cream
1 day-old french baguette, cut into 1-inch cubes to yield about 6 cups, left to dry for 24 hours (see note)
5 ounces cream cheese, at room temperature
1/3 cup powdered sugar
vanilla ice cream
caramel sauce
Instructions
Preheat the oven to 350 degrees. Lightly butter a 2-quart baking dish, six 4-inch ring molds (see note) and a baking sheet.
In a large bowl, beat together egg, egg yolk, granulated sugar, brown sugar and vanilla until smooth.
In a saucepan, slowly bring cream almost to a boil. A tablespoon at a time, whisk hot cream into egg-sugar mixture, whisking the entire time to avoid curdling.
Stir bread cubes into cream-egg mixture. With your hands, gently press the bread to help it absorb the liquid. Transfer to the baking dish.
In a small bowl, blend cream cheese and powdered sugar. With your fingers, break off small bits and insert throughout the soaked bread.
Cover with foil and bake for 35 minutes. Increase the oven temperature to 375 degrees, remove the foil, and bake until a golden crust forms on top, 20 to 30 minutes longer. If necessary, run the bread pudding under the broiler to form the crust.
Let cool to room temperature (don't skip this step; it's important to the texture). When cool, stir gently to blend in cream cheese and distribute the crisp crust.
Place the ring molds on a baking sheet. With your hands, break off pieces of bread pudding. Working gently and using as little pressure as possible, form a ball, then press it into a ring mold to fill. Repeat with remaining ring molds and bread pudding. Refrigerate until firm (don't skip this step).
Preheat the oven to 400 degrees. Bake until bread pudding is golden and crispy, about 15 minutes.
To serve, immediately unmold ring molds onto individual serving plates, top each bread pudding with a scoop of vanilla ice cream, and drizzle with warm caramel sauce.
Recipe From Basket Case Deli in Washington, MO
Photo Courtesy of stu_spivak / CC BY-SA