Jump to recipe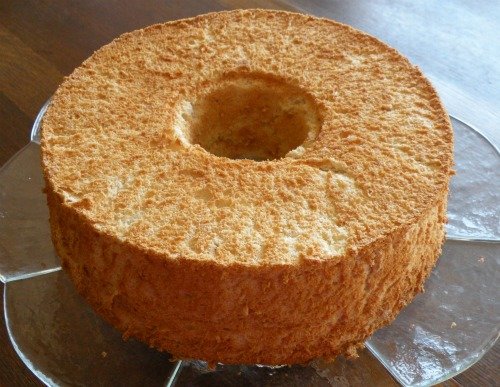 Ingredients
12 egg whites, at room temperature
1/4 cup millet flour
1/4 cup tapioca flour
1/4 cup white rice flour
1/4 cup sweet rice flour
1/4 teaspoon xanthan gum
1 teaspoon cream of tartar
1/4 teaspoon salt
1/2 cup agave nectar
1 tablespoon vanilla extract
1 ½ teaspoon fresh-squeezed lemon juice
Instructions
Separate egg whites in a stainless steel bowl, cover with plastic wrap, and let them come to room temperature. This takes about an hour. If you're in a time-crunch, put your egg whites in a zip-lock bag and place the sealed bag in warm tap water for about 10 minutes. This will bring them to room temperature quickly.
Preheat oven to 325 degrees. Position a rack in the lower middle portion of the oven. Cut two 10 inch long pieces of wax paper and put them on the counter for triple sifting the flour. Put the sifter on one sheet of wax paper and then put all of the flour and xanthan gum into a flour sifter. Sift the flour. Move the empty sifter to the other piece of wax paper and gently lift the flour on the wax paper and dump into the sifter. Sift and repeat one more time. Set aside.
Beat the egg whites on low speed until they are beginning to break up and are frothy. Add the cream of tartar and salt, increase speed to medium and continue to beat until the egg whites are billowy mounds. Pour the agave nectar about one tablespoon at a time into the egg whites until all agave is incorporated and the eggs are at the soft peak stage. This means that the peak will form and then fold over on itself. Beating the eggs to stiff peaks will make it difficult to incorporate the flour without deflating the whites. Pour in vanilla and lemon juice. Mix until just incorporated.
Sift the flour over the egg whites about 3 tablespoons at a time and fold in very gently, making sure to cut down into the bottom of the batter and lift it up over the rest of the whites. Resist the temptation to move quickly or stir. Remember to add in any flour still remaining on the waxed paper.
Pour batter into angel food cake pan and cut through batter with a knife, going around pan, to remove any large air bubbles. Smooth top of batter with a spatula. Bake for 50 – 60 minutes until golden brown and cake springs back when firmly pressed. Check cake after 50 minutes as oven temperatures vary.
When cake is finished, remove from oven and immediately invert on a cake platter. Let cake cool completely, 2-3 hours. To remove cake from pan, place pan on it's side on the countertop. Use a long, thin, flexible spatula to cut around the edge of the cake, always pushing against the pan. Pop the bottom of the cake pan up. Use a long, thin boning knife to cut around the core. Use the long thin spatula to release the angel food cake from the bottom.
Recipe and Photo Credit: Simply Sugar and Gluten Free / CC BY-NC-ND