Jump to recipe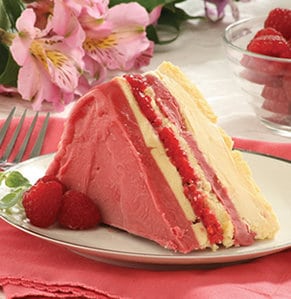 Frozen Raspberry Layer Cake

Ingredients
2 10 3/4-ounce frozen pound cakes, crusts removed, sliced into 1/4-inch-thick slices
3 cups vanilla ice cream, slightly softened
4 cups raspberry sorbet, slightly softened
1 pint fresh raspberries, rinsed and picked over
3 tablespoons Chambord, or other raspberry-flavored liqueur
Instructions
Prepare the pan: Trace and cut out a 9-inch circle from parchment paper and fit it into the bottom of a 9-inch springform pan. Cut out a 3- by 27-inch strip of parchment and fit around inside of pan. Tape to secure parchment paper and set aside.
Assemble the cake: Cover bottom of pan with a single layer of pound cake slices and spread ice cream evenly over cake. Freeze until ice cream hardens – about 25 minutes.
Spread 2 cups sorbet over ice cream, followed by another layer of pound cake slices. Return cake to freezer for 10 minutes.
Combine raspberries and Chambord together in small bowl. Remove cake pan from freezer and place berries evenly over cake.
Top with a final layer of pound cake and remaining sorbet. Wrap tightly with plastic wrap and freeze until firm – at least 4 hours.
Recipe and Photo Courtesy of bing.com