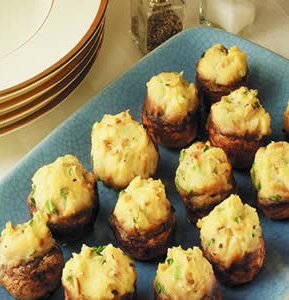 Recipe: Four-Cheese Potato-Stuffed Mushrooms
Ingredients
1 4-ounce package Idahoan Four Cheese Mashed Potatoes
12 large mushrooms or 18 medium mushrooms
3 tablespoons butter, margarine or olive oil
3 tablespoons chopped chives
3/4 teaspoon salt
Instructions
Preheat oven to 450°F.
Prepare Idahoan Four Cheese Mashed Potatoes as package directs.
Remove stems from mushrooms; chop stems and set aside. Carefully scoop out the center of each mushroom cap with a spoon, leaving 1/2-inch shell.
Melt butter in 10-inch skillet over medium heat. Add chopped mushroom stems and cook 3 minutes or until tender. Remove from heat and stir in mashed potatoes, 2 tablespoons chives and salt.
Fill each mushroom cap with potato mixture, mounding it slightly. Bake 10 minutes or until potatoes are lightly golden. Sprinkle mushrooms with remaining 1 tablespoon chives.