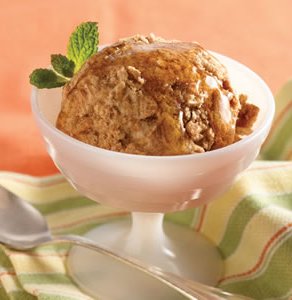 Recipe: Cinnamon Fried Ice Cream
Ingredients
3 cups Cinnamon Toast Crunch cereal
6 scoops (1/2 cup each) vanilla ice cream
4 tablespoons honey
Instructions
Place cereal in resealable food-storage plastic bag; seal bag and crush with rolling pin or meat mallet. Place crushed cereal in shallow dish. Drizzle 2 tablespoons of the honey over cereal.
Quickly roll 1 scoop ice cream at a time in cereal to coat. Place coated scoops of ice cream in ungreased 15x10x1-inch pan. Cover; freeze about 2 hours or until firm.
Set oven control to broil. Uncover pan. Broil scoops with tops 6 inches from heat about 30 seconds or until coating is light brown. Immediately place scoops in individual serving dishes. In small microwavable bowl, microwave remaining 2 tablespoons honey on High 10 to 30 seconds until warm. Drizzle 1 teaspoon warm honey over each serving.
Recipe and Photo Courtesy of Serving Up Soul