Jump to recipe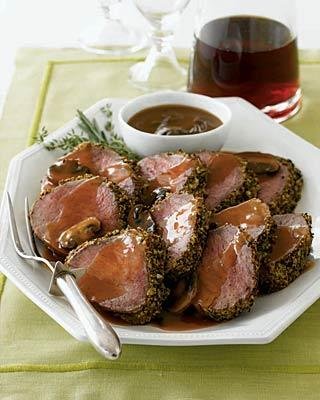 Filet Mignon with Mushroom and Madeira Sauce

Ingredients
3 TBSP butter
2 tablespoons olive oil
12 OZ button mushrooms, thinly sliced
1/2 cup minced shallots
4 garlic cloves, minced
1 TBSP chopped fresh thyme
4 5-ounce filet mignon steaks (each about 3/4 inch thick)
1/2 cup Madeira
1-1/2 cups beef stock or beef broth
1/2 cup whipping cream
Salt and Pepper
Instructions
Melt 2 tablespoons butter with 1 TBSP olive oil in heavy large skillet or pan over medium heat. Add mushrooms and sauté for 10 minutes until tender. Add 1/4 cup shallots and half of garlic, sauté until shallots are soft, about 3 minutes. Stir in thyme; season with salt and pepper. Transfer mushroom mixture to medium bowl.
Melt remaining 1 tablespoon butter with 1 tablespoon oil in same skillet over medium-high heat. Sprinkle steaks with salt and pepper. Add to skillet and cook to desired doneness, about 3-4 minutes per side for medium-rare. Transfer steaks to plate, cover with foil.
Add remaining 1/4 cup shallots and garlic to same skillet. Sauté 2 minutes. Add Madeira and boil until reduced by half. Add broth and boil until mixture is reduced to 2/3 cup. Add cream and boil until sauce thickens slightly, about 2 minutes. Stir in mushroom mixture. Season sauce to taste with salt and pepper. Return steaks to skillet, cook to warm up, about 1 minute. Transfer to plates. Spoon sauce over and serve.
Recipe and Photo: Wine Country Eating / CC BY-ND