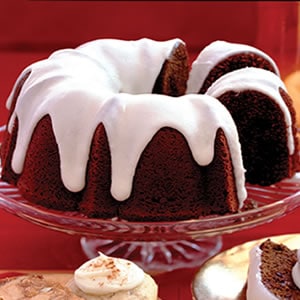 Festive Chocolate Chip Gingerbread Cake
Ingredients
2 1/2 cups flour
1/3 cup unsweetened cocoa
2 teaspoons Baking Powder
2 teaspoons Ground Ginger
1 teaspoon baking soda
1 teaspoon Ground Cinnamon
1/2 cup (1 stick) butter, softened
1/2 cup firmly packed brown sugar
1 cup molasses
1 egg
1 cup boiling water
1 cup chocolate chips

Vanilla Butter Glaze

3 tablespoons butter, melted
2 1/4 cups confectioners' sugar
3 tablespoons water
1 1/2 teaspoons Vanilla Extract
Instructions
STIR flour, cocoa, baking powder, ginger, baking soda and cinnamon in medium bowl.
BEAT butter, sugar and molasses in large bowl. Mix in egg. Add flour mixture alternately with water, stirring just until blended. Stir in chips. Pour into 10-cup fluted tube pan that has been sprayed with nonstick baking spray with flour.
BAKE in preheated 350°F oven 40 minutes or until toothpick inserted near center comes out clean. Cool in pan 15 minutes. Invert cake onto wire rack. Cool completely.
PREPARE glaze by mixing ingredients in medium bowl until well blended and smooth. Let stand 5 minutes. Spoon over completely cooled cake. Let stand until set.
https://stlcooks.com/festive-chocolate-chip-gingerbread-cake/
Recipe and Photo: McCormick & Company