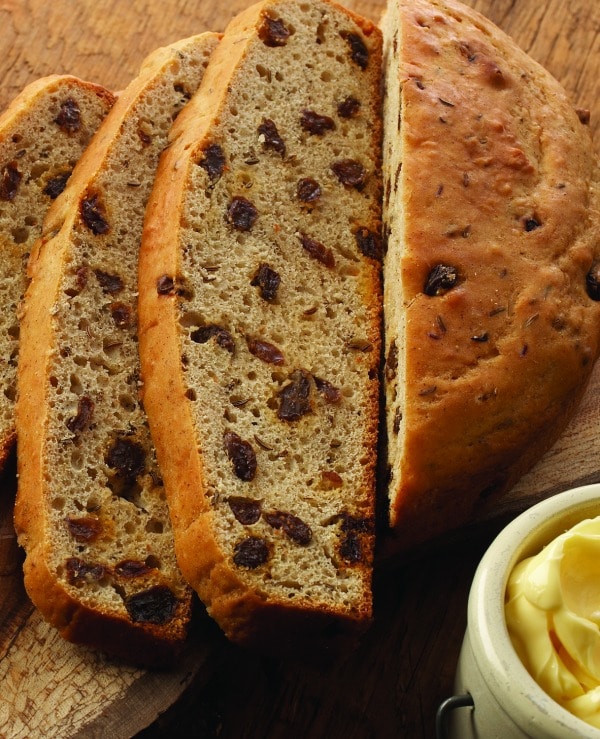 Whether you're Irish or not, St. Patrick's Day is a time for Celtic celebrations – so try your luck with a classic like Irish Soda Bread, a popular Irish recipe with a hint of sweetness from cinnamon and raisins.
"Irish Soda Bread gets its name from the fact that it uses baking soda instead of yeast – which means making it is really as simple as mixing the ingredients together and baking it," said Mary Beth Harrington of the McCormick Kitchens. "It's perfect warmed up for an Irish-themed breakfast or dinner, and it makes a great hostess gift for St. Paddy's Day parties."
To make Irish Soda Bread muffins, divide dough among 12 greased muffin cups. Bake 20 to 25 minutes or until toothpick comes out clean.
Find more St. Patrick's Day ideas and recipes – like corned beef and cabbage and green beer – at www.McCormick.com, www.Facebook.com/McCormickSpices and www.Pinterest.com/mccormickspices.
Ingredients
2 1/2 cups flour
1/2 cup sugar
2 teaspoons McCormick caraway seed
1 1/2 teaspoons baking powder
1/2 teaspoon baking soda
1 teaspoon McCormick cinnamon, ground
1/2 teaspoon salt
1/2 cup raisins or currants
1 1/4 cups buttermilk
2 eggs
1/2 teaspoon McCormick pure vanilla extract
Instructions
Preheat oven to 350°F. Lightly grease 9-inch round cake pan.
Mix flour, sugar, caraway seed, baking powder, baking soda, cinnamon and salt in large bowl. Stir in raisins. Mix buttermilk, eggs and vanilla in medium bowl; stir into dry ingredients. Spread in prepared pan.
Bake 45 to 50 minutes or until toothpick inserted in center comes out clean. Cool in pan on wire rack 10 minutes. Remove from pan. Cool completely on wire rack.
https://stlcooks.com/easy-irish-soda-bread/
Source: McCormick