Jump to recipe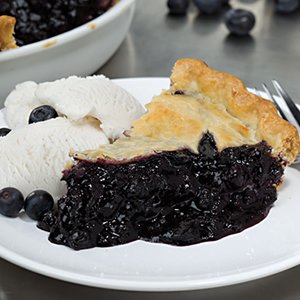 Ingredients
1 1/2 cups sugar
6 tablespoons quick-cooking tapioca
8 cups fresh blueberries
Juice of 1 orange
Pastry dough for a large double crust pie
1 egg mixed with 1 tablespoon milk
Instructions
Preheat oven to 375°F.
In large mixing bowl, toss together sugar, tapioca, blueberries and juice.
Roll out pastry bottom on a well-floured surface to fit in pie dish. Place in the bottom of a 9 1/2-inch deep-dish pie plate. Spoon filling into the pastry shell.
Chill while rolling out top layer of pastry. Cut out 5 or 6 small holes in pastry top using a decorative cookie cutter. Gently roll dough onto top of pie. Crimp edges of pastry to form a tight seal and decorative trim. Brush pie with egg and milk wash.
Bake pie on a tray for 45 to 50 minutes. The blueberry filling should be bubbly and the crust golden brown.
Cool before serving.
Recipe and Photo Courtesy of Chilean Blueberry Committee