Jump to recipe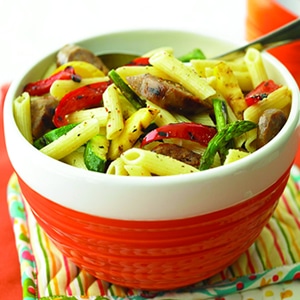 Grilled Sausage-and-Summer Vegetable Pasta

Ingredients
1 package (16-ounce) penne pasta
8 ounces fresh asparagus, trimmed
1 red bell pepper, cut into strips
1 zucchini, cut in half lengthwise and sliced
1 yellow squash, cut in half lengthwise and sliced
1/2 of a red onion, thickly sliced
1 tablespoon extra-virgin olive oil
Salt
Ground black pepper
4 Johnsonville hot Italian sausages
1/4 cup extra-virgin olive oil
1 tablespoon Italian salad dressing mix
1 teaspoon crushed garlic
Shredded Parmesan cheese
Instructions
Cook pasta according to package directions; drain. Set aside. Set up grill for direct cooking over medium heat. Oil grate when ready to start cooking. In large bowl, toss asparagus, bell pepper, zucchini, yellow squash, and onion with 1 tablespoon oil. Season to taste with salt and black pepper.
Place sausages and vegetables on hot, oiled grill (use a vegetable grilling basket if desired). Watch for flare-ups when putting vegetables on grill. Cook for 18 to 20 minutes or until sausages are done (180°F) and vegetables are al dente, turning sausages and vegetables often.
Remove sausages and vegetables from grill. Carefully slice sausages diagonally. In a large bowl, combine sliced sausages, vegetables, and cooked pasta.
In small bowl, stir together remaining oil, salad dressing mix and garlic. Pour over pasta and toss. Serve hot with Parmesan cheese.
Recipe and Photo Courtesy of Sandra Lee