Jump to recipe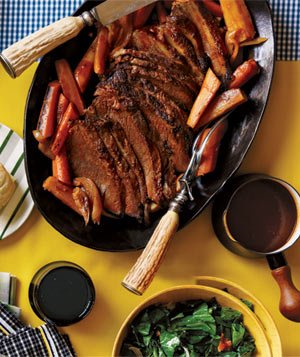 Crockpot Beef Brisket with Fall Vegetables

Ingredients
(2–lb) beef briskets, trimmed
2 tsp salt
1 tsp pepper
1 tbsp vegetable oil
4 carrots, cut into 2–inch pieces
3 parsnips, sliced
2 celery ribs, sliced
1 large onion, sliced
1 fennel bulb, quartered
12 fresh thyme sprigs
1 (1–oz) envelope dry onion soup mix
1 (14–oz) can low-sodium beef broth
¾ cup dry red wine
½ cup ketchup
2 tbsp Beau Monde seasoning
8 garlic cloves
¾ cup chopped fresh parsley
garnish: fresh thyme sprigs
Instructions
Sprinkle beef with salt and pepper.
Heat oil over medium-high heat in a large non-stick skillet.
Add beef; cook 4 minutes on each side until browned.
Transfer beef to a 6-qt slow cooker.
Add carrot and next 5 ingredients.
Whisk together soup mix and next 6 ingredients.
Pour mixture evenly over beef.
Cover and cook on low 12 hours or until tender.
Transfer beef to a serving platter.
Pour remaining vegetable mixture through a wire-mesh strainer, reserving juices, carrot, and onion.
Discard remaining vegetable mixture.
Serve beef and vegetables with juices.
Garnish, if desired.
Recipe and Photo: recipes.wikia.com / CC BY-SA