Jump to recipe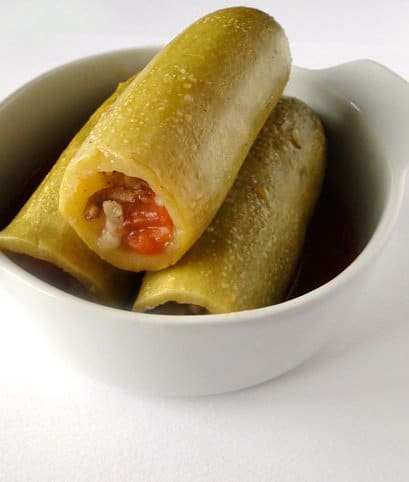 Stuffed Zucchini with Meat and Rice

Ingredients
2 lbs medium yellow zucchinis
½ pound ground beef
½ cup short grain rice
3 ripe tomatoes
1 tsp salt
1/4 tsp allspice
1/4 tsp cinnamon
2 tbsp tomato paste
4 cups stock
4 garlic cloves crushed
2 tbsp dried mint
Instructions
Wash the zucchinis, cut off stem and hollow them with an apple corer. Wash them again and drain them.
Wash the rice then drain it.
Prepare the stuffing by combining the rice, the ground meat, the diced tomatoes, the salt, pinch of pepper and spices. Stuff the zucchinis with this mixture to within 1/2 inch of the top. This can leave a space for the rice during the cooking.
Place the zucchinis in a large pot, add the stock to cover. Bring it to a boil then reduce heat, and simmer covered for around 45 mn to 1 hour. 5 minutes before the end, add 2 tbsp of tomato paste and the crushed garlic combined with the dried mint. Adjust the seasonings to your taste, and serve hot.
Recipe and Photo: Chicho's Kitchen / CC BY