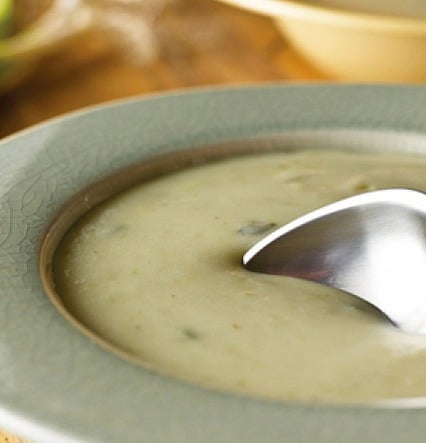 Ingredients
2 tablespoons butter
4 medium green onions, sliced (about 1/2 cup)
1 stalk celery, sliced (about 1/2 cup)
1 3/4 cups Swanson® Chicken Broth (Regular, Natural Goodness® or Certified Organic)
1/8 teaspoon ground black pepper
3 medium potatoes, sliced 1/4–inch thick (about 3 cups)
1 1/2 cups milk
Instructions
Heat the butter in a 3-quart saucepan over medium heat. Add the onions and celery and cook until they're tender.
Stir the broth, black pepper and potatoes in the saucepan and heat to a boil. Reduce the heat to low. Cover and cook for 15 minutes or until the potatoes are tender.
Place half of the broth mixture and half of the milk in a blender or food processor. Cover and blend until smooth. Repeat with the remaining broth mixture and remaining milk. Return to the saucepan and heat through.
https://stlcooks.com/creamy-irish-potato-stew/
Recipe and Photo: Foodista / CC BY