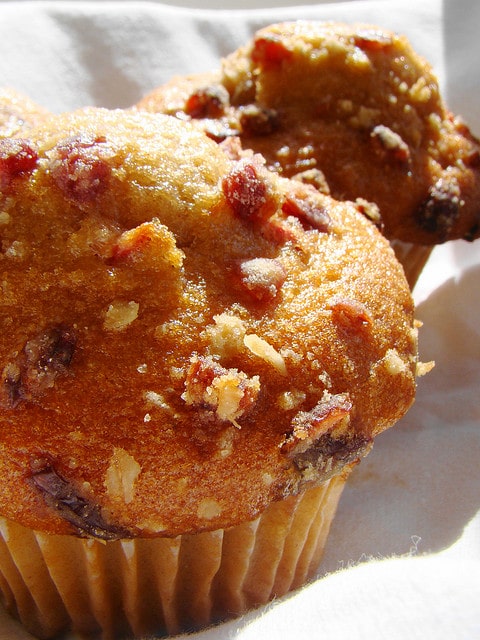 Recipe: Cranapple Muffins
Ingredients
2 cup grated apple
½ cup plain soygurt
1 cup cranberries
½ cup chopped pecans
1 cup raw sugar
Egg Replacer for eggs
½ cup vegetable oil
2 ½ cup cake flour, sifted
1 tsp baking soda
2 tsp baking powder
Pinch of salt
2 tsp cinnamon
Streusel:
1/4 cup brown sugar
1 tsp cinnamon
2 tbsp flour
1 tbsp vegetable margarine
Instructions
Preheat oven to 375° F. Line muffin tin.
In a bowl, combine apples and soygurt; mix with cranberries, nuts, sugar, replacer and oil. Mix flour, baking powder, soda, salt and cinnamon in a separate bowl and add to fruit mix. Mix to moisten and fill muffin tins 2/3 full.
Combine streusel ingredients, and mix well. Sprinkle with streusel mixture . Bake 20-25 minutes.
Number of servings (yield): 12
Recipe and Photo Courtesy of Vegan Feast Catering on flickr / CC BY