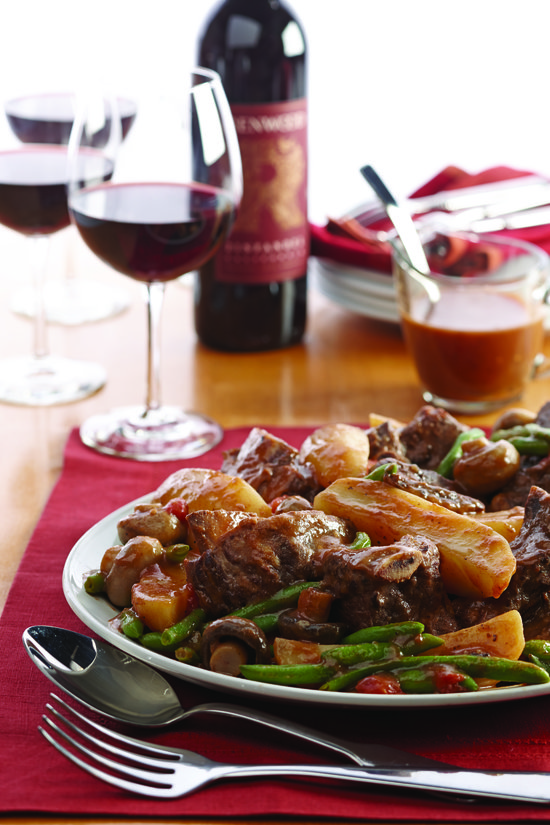 Keep warm with hearty dishes that satisfy appetites and comfort food cravings. From russets to reds, fingerlings to purples, the hearty potato comes in many beautiful varieties that add color and texture to beloved comfort dishes. Bring out the flavors of your down-home creation by pairing it with a perfectly suited wine.
Comforting Complements
A spicy red with raspberry and peppery flavors, Zinfandel pairs particularly well with the flavors of winter – the season where comfort food is king. When searching for the perfect complement to your hearty, comfort fare, go for wines that deliver on quality at a fair price.
Discover Amador County, an up-and-coming wine region nestled in the rolling Sierra Foothills of California, through the wines of Renwood Winery. The winery runs under the direction of Joe Shebl, a talented winemaker whose artistic vision and passion for both Zinfandel and Amador County shows in every bottle. For more information, visit www.renwood.com.
One Healthy Spud
Beyond their appearance in some of the most beloved dishes, potatoes also boast many benefits to your diet. Here are few reasons to add this versatile vegetable into meals:
Potassium – Potatoes are a great source of potassium, which may help lower high blood pressure, making them a heart-healthy choice. In fact, potatoes contain more potassium than a banana or spinach.
Vitamins – A spud a day may keep the cold germs away. One medium-sized spud has nearly half the recommended daily value of vitamin C and is also a good source of vitamin B6.
Dietary fiber – Potatoes are also a source of dietary fiber, a complex carbohydrate, which is known to increase satiety and help with weight loss.
Gluten free – Potatoes are a naturally gluten-free food, so those with gluten sensitivity can enjoy this flavorful vegetable.
For more on potatoes and healthy recipe ideas, visit www.eatwisconsinpotatoes.com.
Ingredients
5 pounds bone-in short ribs, trimmed and cut into 2–inch pieces
3/4 cup all-purpose flour
1/4 cup vegetable oil
2 cups water
1 1/3 cups Renwood Zinfandel
1 medium onion, chopped
1 clove garlic, minced
2 teaspoons salt
1/4 teaspoon pepper
2 beef bouillon cubes
6 large Wisconsin potatoes, washed, peeled and quartered
1/2 pound small fresh mushrooms, cleaned and trimmed
1 package (10 ounces) frozen whole green beans
1 can (16 ounces) peeled whole tomatoes, undrained
Instructions
Dredge ribs in flour to coat; reserve leftover flour.
Heat oil in 8-quart Dutch oven on moderate heat.
Add half of ribs and brown on all sides. Once browned, remove ribs. Repeat instructions for remaining ribs.
Stir in the reserved flour. While stirring, add 1 cup water and wine and stir until thickened.
Return ribs to the pan. Add onion, garlic, salt, pepper and bouillon and bring to a boil.
Cover and lower heat to simmer for about 1 hour, or until ribs are tender.
Remove ribs with slotted spoon and cover with foil to keep warm. Add potatoes, mushrooms and beans. Simmer 20 to 30 minutes, or until vegetables are tender.
Add ribs and tomatoes with liquid, and heat through. Use slotted spoon to remove meat and vegetables to large serving platter.
Remove gravy to serving container and serve with ribs.
https://stlcooks.com/country-stew/
Source: Renwood Winery / Wisconsin Potatoes