Jump to recipe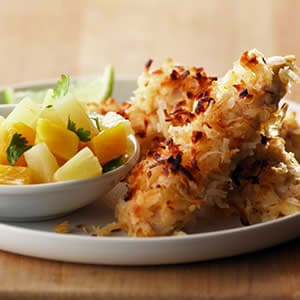 Coconut Chicken with Pineapple-Mango Salsa

Ingredients
1 egg, lightly beaten
1 tablespoon vegetable oil
1/2 teaspoon salt
1/8 teaspoon cayenne pepper
1 1/4 cups flaked coconut
14 to 16 ounces chicken breast tenderloins
1 8-ounce can pineapple tidbits (juice pack), drained
1 cup chopped refrigerated mango slices (about 10 slices)
2 tablespoons snipped fresh cilantro (optional)
1 tablespoon lime juice
1/4 teaspoon salt
Instructions
Preheat oven to 400°F. Line a large baking sheet with foil; lightly grease foil. Set pan aside.
In a shallow bowl whisk together egg, oil, 1/4 teaspoon of the salt, and the cayenne pepper. Spread coconut in a second shallow bowl. Dip each chicken piece in egg mixture, allowing excess to drip off. Coat chicken pieces with coconut. Arrange chicken on the prepared baking sheet. Bake for 10 to 12 minutes or until chicken is no longer pink (170°F).
Meanwhile, for salsa, in a medium bowl combine pineapple, mango, cilantro (if desired), lime juice, and the remaining 1/4 teaspoon salt. Serve with chicken.
Recipe and Photo Courtesy of Wiley Publishing