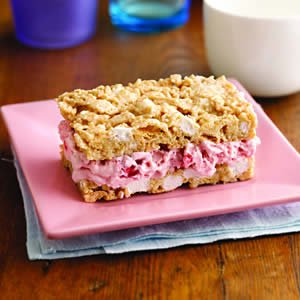 Recipe: Strawberry-Marshmallow Crisp Ice Cream Sandwiches
Ingredients
5 cups gluten-free miniature marshmallows
5 cups Rice cereal, coarsely crushed
1/2 cup unsalted butter
1/2 teaspoon salt
3 cups gluten-free strawberry ice cream, softened
Instructions
Line bottom of 13 x 9-inch pan with cooking parchment paper.
In a 3-quart saucepan, heat 4 cups marshmallows, butter and salt over low heat about 8 minutes, stirring constantly, until melted. Stir in cereal until almost coated; stir in remaining 1 cup marshmallows. Using greased rubber spatula, evenly scrape mixture into pan and spread evenly. Refrigerate about 30 minutes or until easy to handle.
Turn pan upside down to remove cereal layer; discard parchment paper. Cut into 12 rectangles, 4 x 3 inches each. Working quickly, spread 1/2 cup ice cream onto 1 rectangle; top with another rectangle. Repeat to use up rectangles and ice cream. Freeze on parchment paper-lined cookie sheet at least 1 1/2 hours until firm. Wrap sandwiches individually in plastic wrap and store in freezer.
Recipe and Photo Courtesy of Chex