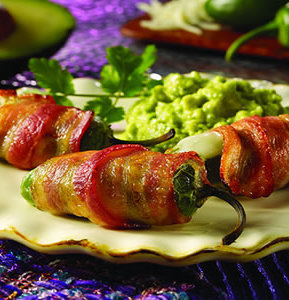 Recipe: Easy Jalapeno Poppers
Ingredients
8 medium sized jalapeños
4 ounces (1/4 pound) Monterey Jack cheese, shredded
8 slices of bacon
8 short wooden skewers or wooden toothpicks
1 packet Tostitos Dip Creations Freshly Made Guacamole prepared according to instructions
3 avocados
Instructions
Create a slit in one side of the jalapeños using a small sharp knife. Do not cut all the way through the ends. Remove the seeds and membrane for a milder popper.
Stuff a pepper with 1/8 of the cheese. Wrap with a slice of bacon and secure the bacon with a skewer. Repeat with the 7 other peppers.
Preheat oven to 425°F. Sear poppers on all sides over high heat in a nonstick pan until bacon is golden brown. Transfer to a baking sheet and bake for 8 minutes.
Serve hot with the guacamole on the side.
Recipe and Photo Courtesy of Frito Lay