Jump to recipe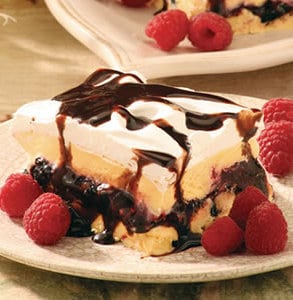 Ingredients
1/2 gallon block vanilla ice cream, softened
1 1/2 cups raspberry preserves
10 chocolate sandwich crème cookies, crumbled
3/4 cup chocolate syrup, divided
1 tub (8 ounces) frozen non-dairy whipped topping, thawed
Instructions
Line bottom of a 13 x 9-inch pan with foil. Remove paper carton from ice cream block. Using a knife dipped in hot water, cut slices of ice cream and place in bottom of pan. Spread ice cream into a smooth layer.
Spread preserves over ice cream. Sprinkle cookie crumbles on top of preserves. Drizzle 1/2 cup chocolate syrup over cookie crumbles. Top with slices of remaining ice cream. Spread ice cream until smooth.
Place in freezer for a minimum of 3 to 4 hours. Remove from freezer and turn out onto serving platter. Remove foil. Frost with whipped topping. Drizzle remaining 1/4 cup chocolate syrup over top to decorate. Return to freezer until ready to serve.
Source
Ralcorp