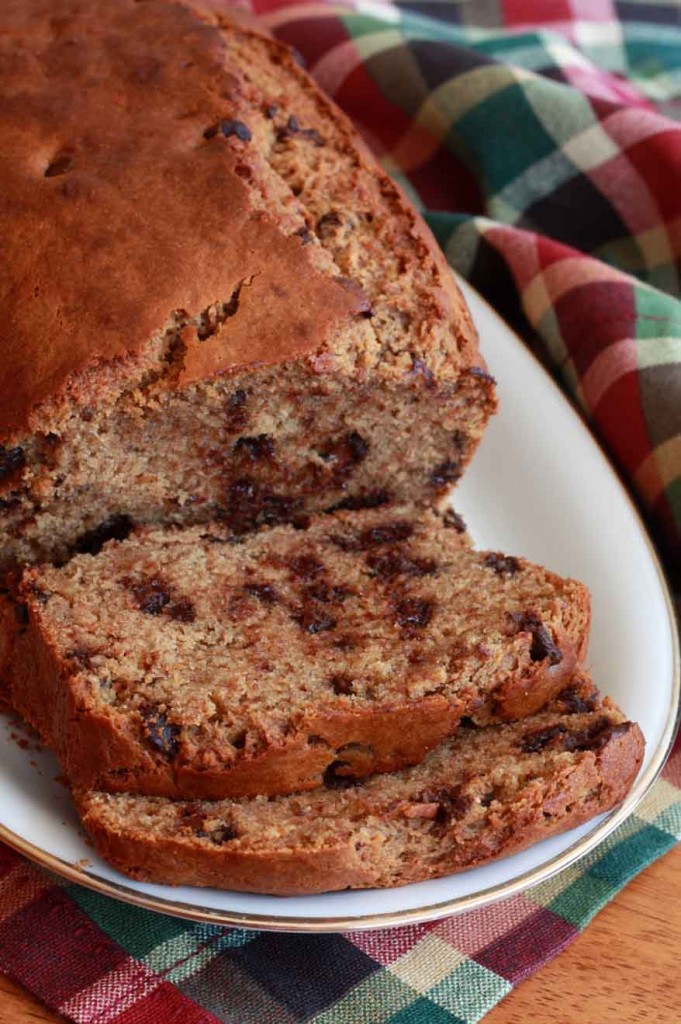 Chocolate Peanut Butter Banana Bread
Ingredients
2 cups spelt or whole wheat flour
1 teaspoon baking powder
1 teaspoon baking soda
½ teaspoon salt
¼ cup raw honey
¾ cup brown sugar
2 large eggs
? cup coconut oil
½ cup natural unsweetened peanut butter (add and extra ¼ cup if you prefer a stronger peanut butter flavor)
1 cup mashed bananas, over ripe
1 teaspoon vanilla extract
1 cup buttermilk
¾ cup semi-sweet chocolate chips
Instructions
Preheat the oven to 350 degrees F. Grease a 9X5 inch loaf pan (I used Fat Daddio's)
In a small mixing bowl, combine the flour, baking powder, baking soda, and salt. Set aside.
In a large mixing bowl, add the honey, brown sugar, eggs, coconut oil, and vanilla extract and beat until combined.
Add the peanut butter and beat just until combined then add the mashed banana and beat to combine. Add the buttermilk and beat until combined.
Using a rubber spatula, fold the flour mixture into the wet mixture, being careful not to over-stir. Stir in the chocolate chips.
Pour the batter into the prepared loaf pan and bake for about 65 minutes, or until a toothpick inserted into the middle comes out clean. Let the bread sit in the pan for 5 minutes before removing and transferring to a wire rack to cool completely.
https://stlcooks.com/chocolate-peanut-butter-banana-bread/
Image and recipe reprinted with permission from daringgourmet.com and www.healthyaperture.com