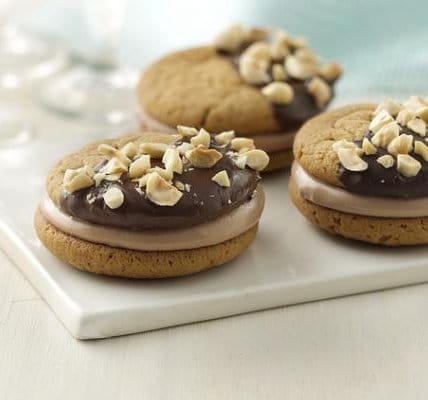 Chocolate Hazelnut Peanut Butter Sandwich Cookies
Ingredients
For the Cookies:

1 roll Pillsbury® refrigerated peanut butter cookie dough

For the Hazelnut Mascarpone Filling:

4 oz mascarpone cheese or cream cheese
2 tablespoons chocolate hazelnut spread
1/4 cup whipping cream
2 tablespoons powdered sugar
1/2 teaspoon vanilla

For the Toppers:

1/2 cup semisweet chocolate chips, melted
2 oz toasted hazelnuts, chopped
Instructions
Heat oven to 350°F.
Shape cookie dough into 24 balls. Place 2 inches apart on ungreased cookie sheets.
Bake 9 to 14 minutes or until golden brown around edges. Cool 5 minutes; remove from cookie sheets to cooling racks. Cool completely, about 10 minutes.
Dip or spread half of the tops of 12 of the cookies in melted chocolate. Place on cooking parchment paper. Top with chopped hazelnuts.
Meanwhile, in medium bowl, beat mascarpone cheese and hazelnut spread until smooth. In second bowl, beat cream with electric mixer on high speed until soft peaks form. Beat in powdered sugar and vanilla until stiff peaks form. Fold whipped cream mixture into mascarpone mixture just until combined.
Spread mascarpone mixture on bottoms of the 12 undipped cookies. Top with chocolate-dipped cookies to make sandwiches. Store in refrigerator until ready to serve.
Notes
Variations: Omit the chopped hazelnuts and top with mini chocolate chips or chocolate sprinkles instead.
https://stlcooks.com/chocolate-hazelnut-peanut-butter-sandwich-cookies/
Recipe and Photo: Foodista / CC BY