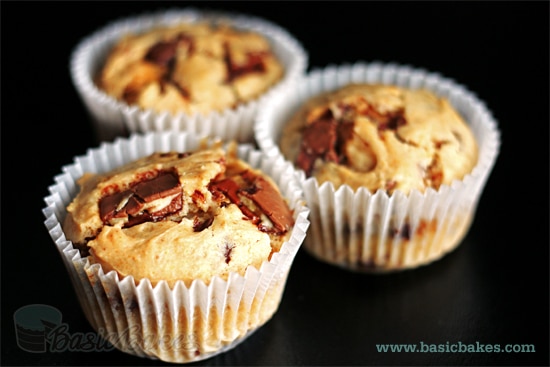 Chocolate-Chunk Peanut Butter Muffins
Ingredients
90g peanut butter (smooth or chunky)
1 egg
1/4 cup vegetable oil
1 cup milk
1/2 tsp vanilla extract
60g caster sugar
250g all-purpose flour
2 tsp baking powder
150g to 200g chocolate, any type, roughly chopped
Instructions
Preheat your oven to 175°C (350°F). Line your muffin tins with paper cases.
In one bowl, mix the peanut butter, egg, oil, milk, vanilla, and sugar until well combined. (To help loosen the peanut butter, mix it with the oil first before adding the other ingredients.) In another bowl, sift the flour and baking powder.
Pour the wet ingredients into the bowl of dry ones and mix until just combine. Add in the chocolate chunks and fold those in.
With a spoon or disher, distribute the batter equally among the 12 cases. Bake the muffins for 25 minutes. Best served while warm and the chocolate gooey.
https://stlcooks.com/chocolate-chunk-peanut-butter-muffins/
Recipe and Photo: Basic Bakes / CC BY-ND