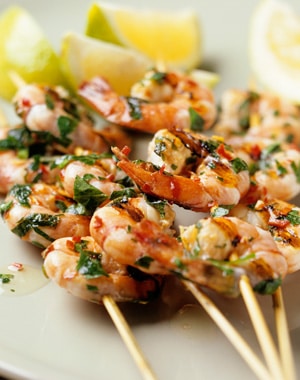 Ingredients
16 giant raw prawns, shelled with the tail section left intact
1 lime, cut into 8 wedges
4 tbsp. sweet chili sauce (can be found in the aisle that holds the Asian seasonings and foods)
---
Instructions
Place eight bamboo skewers in cold water and leave to soak for at least 10 minutes, then preheat the broiler to high. You can also stoke up a hot grill.
Thread a prawn onto each skewer, then a lime wedge, then another prawn. Brush the sweet chili sauce over the prawns and lime wedges.
Arrange the skewers on a baking sheet and broil for about 2 minutes, turning them once, until cooked through. Serve immediately with more chili sauce for dipping.
Notes
If you are planning to serve these as a main course, allot 4 giant prawns per person. However, since giant prawns are terribly expensive, it is a little more economical to buy frozen raw shrimp in a bag.


If using frozen shrimp, try to use the biggest ones you can (16 – 20 count). Keep in mind that you will need more than 1 lime if you do this.


Smaller shrimp equals more food for a crowd. If you're having a small but fancy dinner party, spend the extra money for the giant prawns; it will be worth it.


https://stlcooks.com/chili-prawn-skewers/