Jump to recipe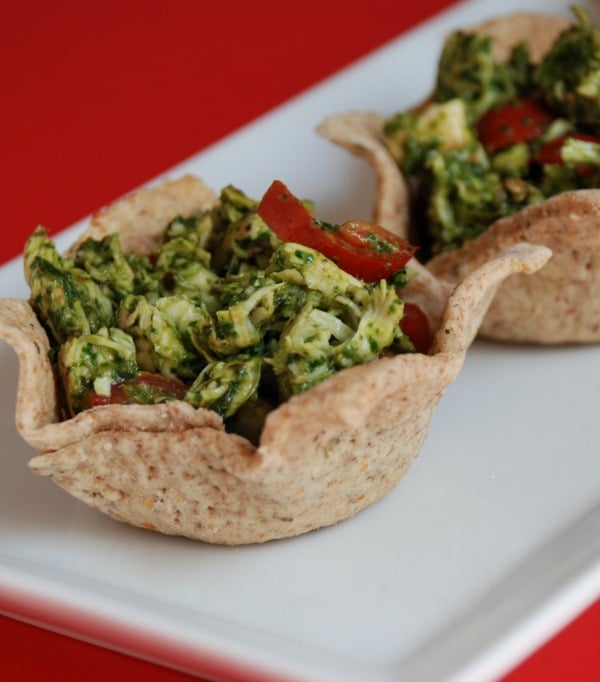 Chicken Pesto Bites in Parmesan Cracker Cup

Ingredients
For Parmesan Cracker Cups:
½ cup all-purpose flour
½ cup whole wheat flour
1 tsp sugar
½ tsp baking soda
1/8 tsp salt
1/8 tsp freshly ground pepper
½ tsp Dried Basil or Italian Herb Mix
1 Tbsp Butter
¼ cup shredded parmesan cheese
1 clove garlic
1/3 cup buttermilk
Pesto:
3 cups Fresh Spinach
½ cup loosely packed fresh Basil
¼ cup parmesan cheese
3 Tbsp Olive Oil
For Chicken Mix:
1 ½ cup Chicken, cooked and cubed
¼ cup Cherry Tomatoes, diced
¼ tsp salt
1/8 tsp freshly ground pepper
Instructions
For Cracker Cup:
Preheat oven to 375. In a medium bowl, stir together all-purpose flour, whole wheat flour, sugar, baking soda, salt, pepper and dried basil (or Italian seasoning). Use a pastry blender to cut in butter until mixture resembles coarse crumbs. Stir in shredded parmesan cheese and garlic. Make a well in the center of flour mixture. Add buttermilk. Using a fork, stir until mixture can be shaped into a ball. If dough is dry and not shaping into a ball add slightly more buttermilk.
Turn dough out onto a lightly floured surface. Knead until dough is almost smooth. Divide dough in half. Roll each portion into a 12×9 inch rectangle. Cut rectangles into 3-inch squares. Prick squares well with a fork. Coat the outside bottoms of a 1 ¾" muffin cup bottoms, making sure edges of squares don't overlap. Place inverted muffin pan on a baking sheet.
Bake about 10 to 12 minutes or until golden brown. Keep on pan and cool on a wire rack for 5 minutes. Remove cracker cups from muffin pan and continue to cool on wire rack.
For Pesto:
Combine spinach, basil, parmesan cheese and olive oil in a food processor and pulse until mixture is at a sauce.
Chicken Mix:
Add cubed chicken, tomatoes, salt and pepper. Add sauce to the chicken mixture and toss well. You may not need all the pesto sauce. I had about ½ cup leftover. It depends on how much pesto you prefer.
Recipe and Photo: Multiply Delicious / CC BY