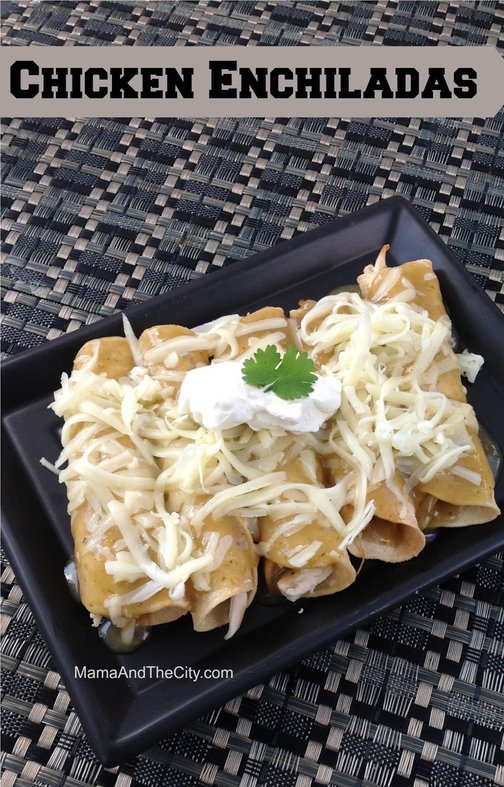 Ingredients
12 corn tortillas
1 lb pre-cooked and shredded Chicken
3 Tbsp vegetable oil
7 oz Swiss Cheese (or any cheese that melts)
1 lb green tomatillo sauce (*)
Instructions
Pre-heat oven at 350F
Put 1/2 tbsp oil into a medium-large size pan at medium heat. Disperse oil evenly. Place 2 tortillas (if the pan allows). The goal is to soften them with oil and switch sides after 30 seconds. Take out and set aside. Repeat until finished with the 20 tortillas. Use more oil if needed.
Stuff the tortillas with some pre-cooked and previously shredded chicken. Roll the tortilla and place it into a square backing dish. Repeat for the rest of the tortillas.
Once finished arranging the enchiladas, place the baking dish into the oven. Bake for 15 minutes.
Take out from the oven and pour the green tomatillo sauce on top of the enchiladas.
(*) Green tomatillo sauce: if there is not available at the supermarket, this can be easily be done fresh as well. Boil 1 lb green tomatillos and 1 small onion until the color on the tomatillo changes slightly to a darker tone or get they get softer. Drain, and reserve 1/2 cup of the water. Blend the tomatillos and onion and add 2 pieces of garlic, some salt and pepper (to taste). If you are adventurous, you can add a pinch of cumin and a pinch of oregano.
Cover with cheese.
https://stlcooks.com/chicken-enchiladas/
Recipe and Photo: Mama and the City / CC BY-SA