Jump to recipe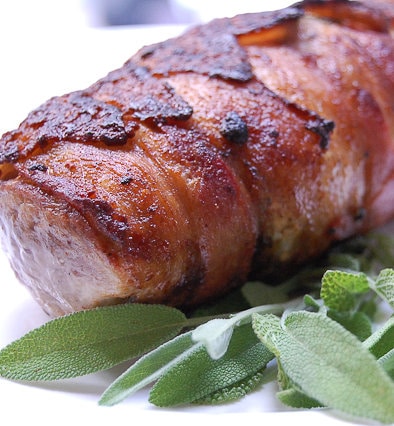 Bacon-wrapped Pork Tenderloin

Ingredients
2 pounds pork tenderloin
Coarse salt
Freshly ground black pepper
Fresh sage
Garlic powder
8 slices of bacon
Instructions
Remove about ½ inch off the tapered end of each tenderloin to make a perfect cylinder.
Season with salt, pepper, and a pinch of garlic powder.
Lay the bacon strips in a overlapping line on a sheet of cling wrap. Place sage leaves all over bacon (about 9-10).
Place 1 piece of tenderloin across the short ends of the bacon and roll to cover with the bacon.
Repeat with the other tenderloin segments. The bacon-wrapped tenderloins can be wrapped in plastic and stored in the refrigerator for up to 2 days. When ready to proceed, allow them to warm to room temperature.
Preheat oven to 425 F
Place the tenderloin in non-stick pan and sear on all sides over medium-high heat.
Brown the tenderloin well on the first side for 2-3 minutes.
Turn and cook on all sides, about 2 minutes per side.
Transfer the pan to the preheated oven and cook for 8-10 minutes, turning the pieces after 5 minutes to ensure even cooking.
Recipe and Photo: Foodista / CC BY