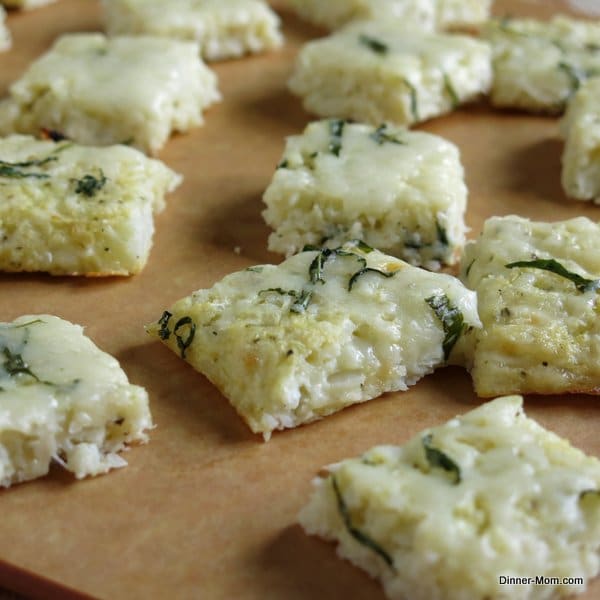 Cheesy Cauliflower Pizza Bites – Vegan or Not
Ingredients
1 small head cauliflower, washed and dried
1 1/4 cup + 1/4 cup mozzarella, or vegan cheese shreds, divided
1/4 teaspoon dried oregano
1/4 teaspoon dried basil
1/4 teaspoon garlic powder
1/4 teaspoon salt
1 egg or 1 egg-replacer (1 Tablespoon chia seeds combined with 3 Tablespoons water)
5-6 basil leaves, cut into slivers
Instructions
Preheat oven to 425 degrees F.
Cut florets from cauliflower, discarding most of the stem.
Process florets in a food processor to form "rice."
Cook cauliflower rice on high in the microwave for 4 minutes.
Spread hot cauliflower rice out on a clean dish rag and allow to cool.
Fold sides of dish rag over the top of the rice and press to remove additional moisture.
Return cauliflower rice to bowl and add oregano, basil, garlic powder, salt and 1 1/4 cup of cheese shreds.
Stir to combine ingredients.
Prepare egg-replacer, if using, by combining ingredients and allowing to gel for about 5 minutes.
Stir in egg-replacer or egg.
Use hands to compress mixture into two or three dough balls. The balls will not be as firm as traditional dough, but should hold their shape.
Place dough on a baking sheet covered with parchment paper that has been coated with cooking spray.
Press the dough into desired shape, pressing down to flatten the surface and moving in the sides.
Continue to flatten and move in the sides until the surface is flat and the dough is firmly packed together.
Bake for about 8-10 minutes or until the bottom sides of the crust just begin to brown.
Remove from oven and sprinkle remaining cheese shreds and basil over the top.
Return to the oven and bake for about 3-4 minutes more.
Remove from oven and allow pizza to cool for about 5 minutes.
Cut into squares and enjoy!
Notes
Recipe can be made a day ahead of time and reheated in the oven at serving time. This is a basic cauliflower pizza crust that can be topped with pizza sauce and desired toppings.
https://stlcooks.com/cheesy-cauliflower-pizza-bites-vegan-or-not/
Image and recipe reprinted with permission from www.dinner-mom.com and www.healthyaperture.com