Jump to recipe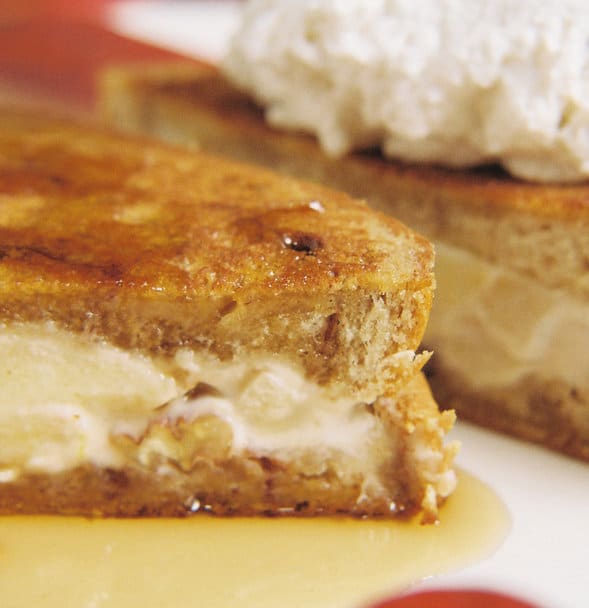 Caramel Apple Cream And White Chocolate Stuffed French Toast

Ingredients
Ingredients For Filling
1/3 cup pecans, roughly chopped and toasted
1 cup apples, peeled and cut into small cubes (I used 1 Winesap and 1 Fuji apple)
1/2 cup Chateau Morrisette Sweet Mountain Apple Wine
1/2 cup plus 2 tablespoons cream cheese, softened
2 tablespoons white chocolate cream cheese
1 teaspoon lemon zest
pinch of salt
8 slices Pepperidge Farm caramel apple bread
1 tablespoon butter
Ingredients For Egg And Cream Coating
3 eggs
1/2 cup heavy cream
1/2 teaspoon maple extract
1 teaspoon vanilla extract
1/2 teaspoon cinnamon
pinch of salt
Ingredients For Maple Cognac Whipped Cream
Refrigerate a mixing bowl and beaters as this helps cream to come together faster and better
1 cup heavy cream
1 teaspoon powdered sugar
1 tablespoon plus 1 teaspoon maple syrup
1 tablespoon Cognac
maple syrup or caramel for additional toppings (optional)
Instructions
Directions For Filling
Heat oven to 300 degrees.
Chop pecans and place on a baking sheet.
Toast for 8 minutes.
Remove and let cool.
Pour wine over apples and soak.
Mix remaining ingredients.
If you have time let fruit soak for 30 minutes.
Then drain well onto a cloth or paper towel to remove access liquid.
Stir into cream cheese mixture and refrigerate while you prepare everything else.
Directions For Eggs and Cream
Whisk everything together in a bowl. Set aside.
Directions For Whipped Cream
Whip heavy cream on medium, then high until soft peaks form.
Add remaining items and continue beating until you have beautiful fluffy homemade whipped topping. Be careful not to beat too long or it will turn into butter.
Refrigerate.
Putting It All Together
Heat butter in a large skillet on medium.
Lay out slices of bread.
Distribute filling between 4 slices of the bread.
Top each with remaining slice.
Dip into egg batter and place into hot pan.
Cook until lightly browned on each side, approximately 4 to 5 minutes.
Cut into triangles or squares.
Spoon whipped cream over each section. This cream is not super sweet. If you want even more decadence, drizzle with maple syrup or caramel.
Recipe and Photo: Foodista / CC BY