Jump to recipe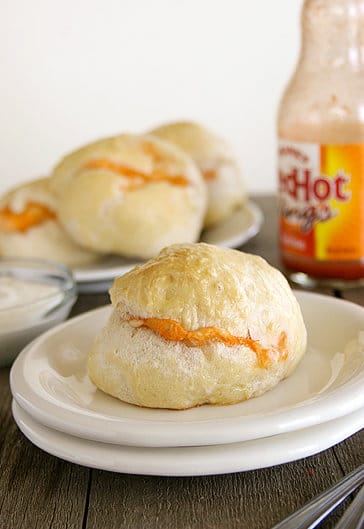 Buffalo Chicken Pizza Rolls

Ingredients
4 oz. cream cheese, softened
1 can (12.5 oz) canned chicken, drained
¼ cup crumbled blue cheese
¼ cup buffalo wing sauce
½ cup shredded Mozzarella cheese
1 pound pizza dough
1 egg
Instructions
Preheat the oven to 425F. Spray a baking sheet with non-stick cooking spray. Set aside.
In a large bowl, mix cream cheese until smooth. Add in the chicken, blue cheese, buffalo sauce, and mozzarella. Mix until completely combined.
Flour a work surface. Roll out the pizza dough into a 12"x10" rectangle. Cut the rectangle into 6 squares.
Divide the chicken mixture between the squares, about ¼ cup of the chicken mixture for each square. Working one at a time, pinch the edges together to form a ball of dough around the chicken mixture. Pinch to form a seam, making sure there are no holes. Place on the prepared baking dish, smooth side up. Repeat with the other 5 rolls.
Beat the egg lightly and mix in 1 tablespoon of water. Brush the egg wash lightly over the top of each roll.
Bake the rolls in the preheated oven until the dough is golden brown and cooked, about 10 minutes.
Recipe and Photo: Foodista / CC BY