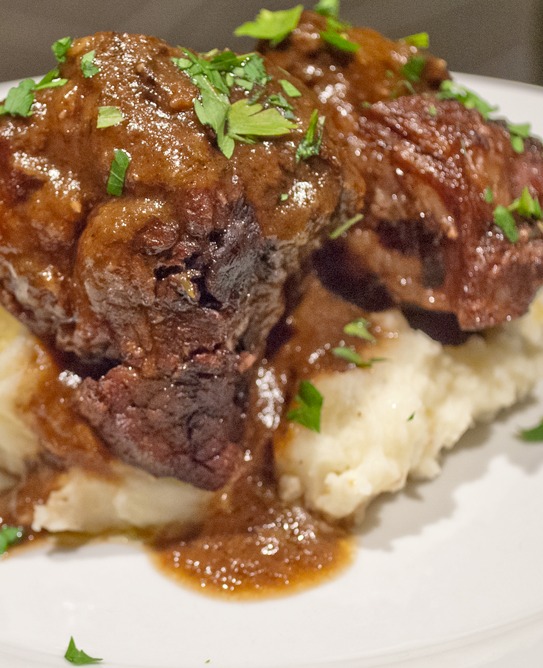 Ingredients
3lbs beef short ribs (try to get nice, meaty ribs)
2 tbsp vegetable oil
2 tbsp unsalted butter
1 cup yellow onion, chopped
1/2 cup carrots, chopped
1/2 cup celery, chopped
1 head of garlic (about 12 cloves), peeled and smashed
2 bay leaves
2 large sprigs of fresh thyme
3 cups red wine (like burgundy or pinot noir)
2 to 3 cups beef stock
Kosher salt and fresh cracked pepper
Fresh parsley, for garnish
---
Instructions
Preheat the oven to 325ºF.
Sprinkle the ribs generously with kosher salt and cracked pepper. Set aside.
In a dutch oven (or deep, heavy skillet) over medium-high heat, melt the butter with the vegetable oil, and sear the ribs on all sides, a couple of minutes per side, until nicely browned. Don't crowd the pan; work in batches if necessary. Set aside.
Drain all but 2 tbsp of the fat and reduce the heat to medium. Add the onions, carrots, and celery to the pan. Cook for a few minutes, scraping up any browned bits from the bottom of the pan. Add the garlic, bay leaves, and thyme, and continue to cook until the garlic is fragrant. Pour in the wine, scraping the bottom of pan to get up any more savory tidbits, and bring to a bubble.
Nestle the ribs down into the wine, and pour in the beef broth until the ribs are just barely covered (use more as needed). Don't worry about seasoning the liquid with salt and pepper just yet, because it's going to be reduced a lot later on. Bring the liquid back to a boil, then pop on the lid and slide the whole thing into the oven.
Cook for about 3 hours, or until the meat is fork tender. Make sure the liquid doesn't boil during the cooking stage; if the liquid is at more than a bare simmer, reduce the heat to 300ºF and continue to cook at the lower temperature.
When the meat is fork tender, remove the pan from oven. At this point, you can cool and refrigerate overnight if you plan on serving these the next day (highly recommended). When you're ready to serve, remove the hardened fat off the top, and discard. Then reheat the ribs and cooking liquid together at a low simmer, then proceed with the next step.
Remove the ribs to a plate and tent loosely with foil. Keep warm. You can also debone them at this point if you desire. The bone should slide right out, leaving a hunk of tender goodness. Skim as much fat as you can off the cooking liquid (if you haven't done so already), and then bring the liquid to a rolling boil and reduce to 2 cups. Remove the bay leaves and thyme stems.
Pour the reduced cooking liquid into a large, deep measuring cup, and use an immersion blender to blend it into a thickened sauce (or just use a regular blender).
Add the thickened sauce back to the pan, and taste for seasoning, adjusting as needed. Now add the ribs, turning to coat the meat completely. You're done!
Garnish with freshly chopped parsley.
https://stlcooks.com/braised-beef-short-ribs/