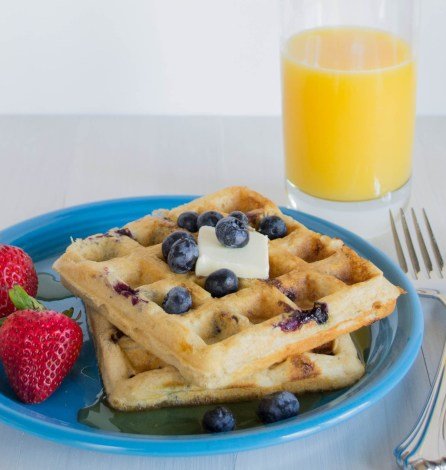 Blueberry Cheesecake Waffles
Ingredients
2 cups white wheat flour
4 tsp baking powder
½ tbsp sugar
½ tsp salt
4 tbsp unsalted butter, melted
2 large eggs, beaten
½ tsp vanilla extract
½ cup low fat small curd cottage cheese
1¾ cup skim milk
1 cup fresh blueberries, rinsed and picked
non-stick cooking spray
Instructions
Preheat waffle iron to medium low.
In a large bowl combine flour, baking powder, sugar and salt.
Whisk eggs in a medium bowl. Add the vanilla, cottage cheese, butter and whisk to combine.
Add the egg mixture to the flour mixture and whisk to combine.
Gradually add in milk while whisking.
Lightly coat waffle iron with non-stick cooking spray. Fill iron just to inside edges. Be careful to not overfill. Add a few blueberries to each waffle.
Gently close waffle iron and cook according to manufactures directions for lightly browned.
https://stlcooks.com/blueberry-cheesecake-waffles/
Recipe and Photo: Pick Fresh Foods / CC BY