Jump to recipe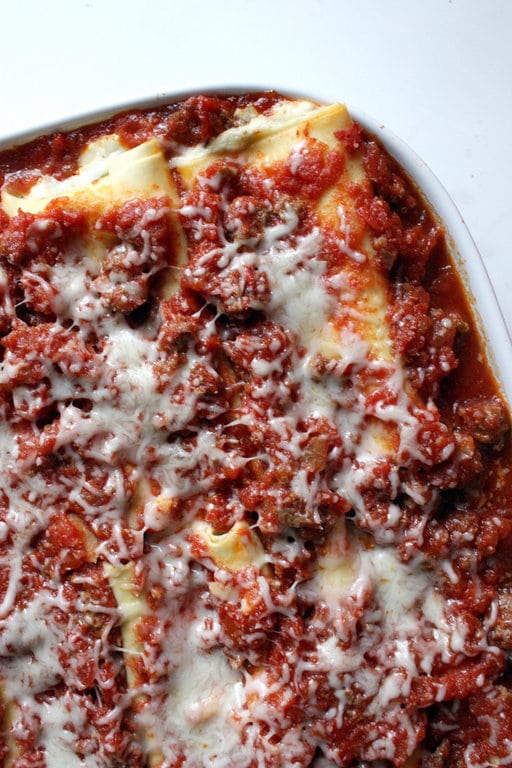 Notes
You will need 16 no-boil lasagna noodles. The test kitchen's preferred brand, Barilla, comes 16 to a box, but other brands contain only 12. It is important to let the dish cool for 15 minutes after baking.

Ingredients
Meat Sauce:
1 onion, chopped
6 ounces sliced deli pepperoni
1 pound 85 percent lean ground beef
1 tablespoon tomato paste
5 garlic cloves , minced
1/4 teaspoon red pepper flakes
2 (28-ounce) cans crushed tomatoes
Salt and pepper
Manicotti:
3 cups ricotta cheese
2 1/2 cups shredded mozzarella cheese
1 1/2 cups shredded provolone cheese
1 large egg , lightly beaten
1/2 teaspoon salt
1/2 teaspoon pepper
1/4 cup finely chopped fresh basil
16 no-boil lasagna noodles (see note)
Instructions
GRIND MEAT Adjust oven rack to upper-middle position and heat oven to 375 degrees. Pulse onion and pepperoni in food processor until coarsely ground. Add beef and pulse until thoroughly combined.
MAKE SAUCE Transfer beef mixture to large saucepan and cook over medium heat, breaking up mixture with wooden spoon, until no longer pink, about 5 minutes. Using slotted spoon, transfer 1 cup beef mixture to paper towel-lined plate and reserve. Add tomato paste, garlic, and pepper flakes to pot with remaining meat mixture and cook until fragrant, about 1 minute. Stir in tomatoes and simmer until sauce is slightly thickened, about 20 minutes. Season with salt and pepper. (At this point, sauce can be refrigerated in airtight container for 3 days.)
PREPARE FILLING Combine ricotta, 2 cups mozzarella, 1 cup provolone, egg, salt, pepper, basil, and reserved meat mixture in large bowl. Pour 2 quarts boiling water into 13- by 9-inch baking dish. Soak noodles until pliable, about 5 minutes. Drain noodles on kitchen towel. Pour off water and dry baking dish.
ASSEMBLE DISH Spread half of meat sauce over bottom of baking dish. Following photos below, top each soaked noodle with 1/4 cup cheese filling, roll, and arrange, seam-side down, over sauce in baking dish. Spread remaining sauce over manicotti. Cover with foil and bake until bubbling around edges, about 40 minutes. Remove foil and sprinkle with remaining mozzarella and provolone. Bake until cheese is melted, about 5 minutes. Let cool 15 minutes. Serve.
Recipe and Photos: Sunshine and Bones / CC BY-SA