Jump to recipe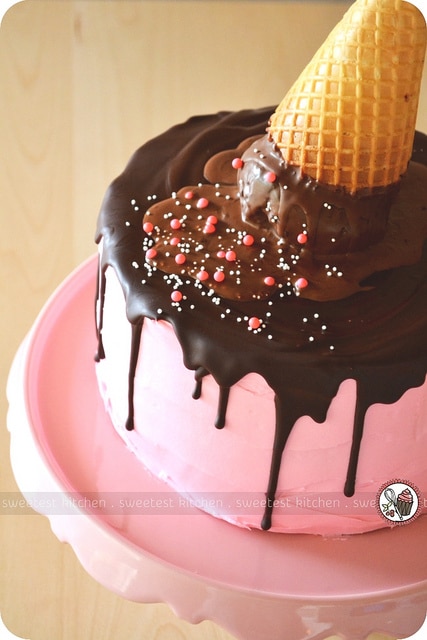 Melting Ice Cream Cone Birthday Cake

Ingredients
Chocolate Cake:
1 1/2 cups all-purpose flour
1 1/3 cups sugar
1/2 cup dark cocoa powder (I use Valrhona)
1 1/4 teaspoons baking soda
1 1/4 teaspoons baking powder
1 teaspoon salt
75ml (2.5oz) vegetable oil
140ml (5oz) buttermilk
130ml (4.5oz) espresso or strong, hot brewed coffee
2 eggs, room temperature, lightly beaten
1 tablespoon vanilla
Vanilla Buttercream:
250g unsalted butter, softened
3 cups icing sugar, sifted
2-4 tablespoons milk
Pink food coloring
Chocolate Ganache Glaze:
115g (4oz) good quality bittersweet or dark chocolate, chopped (I used Lindt 70%)
76g unsalted butter, chopped
Basic assembly:
a frozen chocolate muffin
a waffle cone
Magic Shell or Ice Magic, or homemade quick shell
sprinkles
Instructions
Chocolate Cake:
Preheat oven to 350° F (180°C). Prepare 2 8-inch round cake pans with butter, parchment paper rounds, and dust with cocoa powder. Tap out excess.
In the bowl of an electric mixer, sift all dry ingredients. Add all remaining ingredients to bowl with the dry ingredients and with the paddle attachment, mix for 2 minutes on medium speed (you may need the plastic splash-guard that comes with mixer) and pour into prepared pans. Batter will be liquidy. If possible, use digital kitchen scale and weigh pans for even layers.
Bake for 30 minutes and rotate pans in oven. Cakes are done when toothpick or skewer comes clean. Try not to over bake.
Cool on wire racks for 20 minutes then gently invert onto racks until completely cool.
Vanilla Buttercream:
Beat butter in an electric mixer for 10-15 minutes until very light and creamy in colour.
Beat in half the icing sugar for 2 minutes until well incorporated. Add 2 tablespoons milk and beat for a further 2 minutes, then beat in remaining icing sugar for a further 2 minutes. Add food coloring, and more milk if needed and beat until the coloring is uniform. The icing should be fluffy and smooth.
Chocolate Ganache:
Place the chocolate and butter in a medium heatproof bowl over a pot of simmering water; do not let bowl touch the simmering water. Stir the mixture until melted and smooth. Let cool to room temperature before glazing the cake, otherwise the glaze will melt the buttercream.
Assembly:
Assemble as per a 2-layer cake, leveling the cake with a sharp, serrated knife if necessary. Fill and frost the layers with buttercream. Glaze with ganache when the ganache is cool, using the back of a spoon or knife to make some ganache drip down the sides of the cake. With a sharp, serrated knife, carefully shape a frozen chocolate muffin into a sort-of ball resembling a scoop of ice cream and chop a bit off the bottom of the ball so that it'll sit flat on top of the cake. Be sure it'll fit and look right in the waffle cone. Place the muffin on top of the cake and the waffle cone on top of the muffin. Carefully pour Magic Shell over the muffin first and make sure it's completely coated. Then carefully outline a pool of melted "ice cream" with the Magic Shell and fill it in with more Magic Shell – you may need to use the back of a spoon to spread it around. When the shell has almost hardened, add sprinkles; if you do it too soon, the sprinkles will sink into the Magic Shell and if you do it too late, the sprinkles won't stick at all. It kind of sounds more difficult than it really is! It's actually quite easy to assemble and will definitely impress everyone!
Recipe and Photo: jamieanne on flickr / CC BY-ND (If you visit her flickr page, there is a link that tells the whole story about how this ultra-cute cake came to be.)