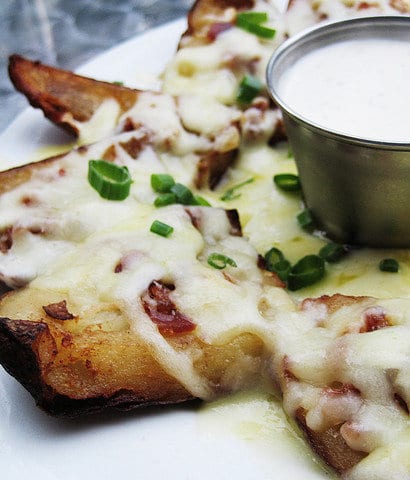 Bacon and Cheese Stuffed Potato Skins
Ingredients
10 small baking potatoes
1 tablespoon extra-virgin olive oil
1.5 cups extra-sharp white cheddar cheese, shredded
1 cup bacon, cooked until crisp and chopped
1 cup sour cream
Salt and freshly ground black pepper to taste
3-4 green onions (both green and white parts), chopped for garnish
Instructions
Preheat oven to 400°.
Pierce the potatoes with a fork, arrange on a baking sheet, brush all sides with olive oil, and sprinkle with salt. Bake until tender, 40 to 45 minutes. Let stand until cool enough to handle.
Cut potatoes lengthways in quarters. Using a teaspoon, scoop out the flesh (leaving about 1/4-inch near the skin) into a bowl.
Return potato skins to the baking sheet.
Coarsely mash the potato flesh in the bowl and stir in the cheese, bacon, sour cream, salt and the pepper. Stuff each with the potato-cheese mixture and bake until golden-brown on top, 15 to 20 minutes.
Garnish with chopped green onions.
https://stlcooks.com/bacon-and-cheese-stuffed-potato-skins/
Recipe and Photo: Foodista / CC BY