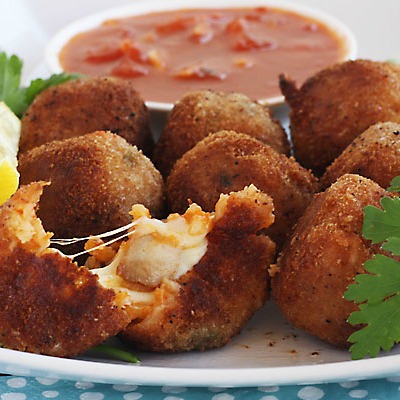 Arancini and Marinara Sauce
Ingredients
5-7 cloves of garlic, chopped
1 can whole tomatoes in their juice
1/4 of a cup of extra virgin olive oil (good quality)
1 whole chili, fresh or dried
1 teaspoon salt
a few sprigs/small bunch(es) of fresh herbs e.g. basil, parsley, thyme or 1/2 a teaspoon of dried oregano (I used thyme and parsley as that's what I had)
a splash of balsamic vinegar & a teaspoon of sugar (optional)
salt & freshly ground black pepper
leftover risotto
small squares of mozzarella cheese (about 1cm square from a piece of mozzarella cheese)
1 egg, whisked
breadcrumbs (start with 2 slices of bread – whizz into crumbs in a food processor)
enough olive oil for a shallow layer in a skillet/frying pan
Instructions
Make your marinara sauce first. Crush the tomatoes by pouring them into a bowl and breaking them up in your hands or snipping them with scissors inside the can.
Heat the oil in a skillet/frying pan with a fairly large surface area, then add the garlic. Cook until it's sizzling, making sure it doesn't brown, then add the tomatoes. Half fill the empty tomato can with water, swish it around and empty that into the pan, too.
Add the chili, salt and any herbs you want to add, stir then let the pan of sauce simmer for about 15 minutes or until thickened and a layer of bright orange oil appears on the surface.
Discard the chili and herbs, then add the balsamic vinegar and sugar if desired.
Take smallish tablespoons of your chilled leftover risotto and roll into balls.
Push a square of mozzarella into each little ball and mold the rice back around it.
Roll each ball first in the egg then in the breadcrumbs.
Heat the oil, then fry the little balls for a few minutes until nicely browned, turning regularly so that they crisp up well on all sides.
Serve immediately with plenty of fresh marinara sauce for dipping.
https://stlcooks.com/arancini-and-marinara-sauce/
Recipe and Photo: Foodista / CC BY