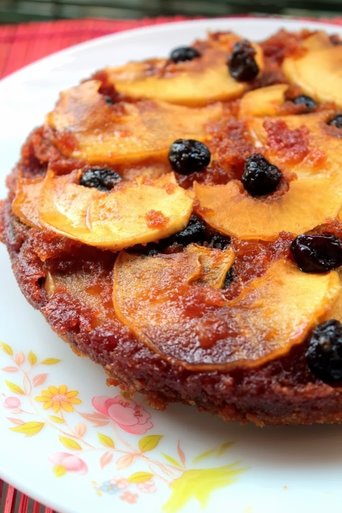 Apple Cranberry Upside Down Cake
Ingredients
1/2 cup sugar
2 medium or 1 large large Golden Delicious apples, peeled, cored and sliced in ½in wedges
Zest of 2 small lemons or limes
2oz dried cranberries
4oz salted butter, softened
4oz light brown sugar
4oz flour
½ tsp baking powder
½ tsp baking soda
2 eggs, at room temperature
2 tbsp whole milk
½ tsp vanilla extract
Instructions
Grease 6 inch round cake tin with butter. Preheat the oven to 355F.
For the topping, put a non stick pan over a high heat. Add the sugar and 1 1/2 tablespoons of water and cook until it the sugar melts and turns amber – do not stir at any point.
Remove from the heat and carefully pour the toffee into the baking tin and cover the base completely. Place the apple wedges on top of the caramel and sprinkle with a third of the lemon zest. Add the cranberries in any gaps between the apple.
For the cake, beat the butter, vanilla, remaining lemon zest and sugar until pale and fluffy, about 5-8 minutes.
Sift together the flour, baking powder and bicarbonate of soda and add a tablespoon of this to the butter mix along with one egg. Repeat the process with the second egg and add the rest of the flour. Mix until combined. Stir in the milk. Pour into cake tin and gently smooth with a spatula. Bake for 30 – 40 minutes or until a skewer inserted into the center comes out clean.
Using oven gloves, place a cooling rack over the tin and quickly flip over, taking care not to burn yourself on any hot caramel that may leak from the tin. Remove from the tin and set aside to cool completely.
https://stlcooks.com/apple-cranberry-upside-down-cake/
Recipe and Photo: Chocolate Coffee Cream / CC BY-ND