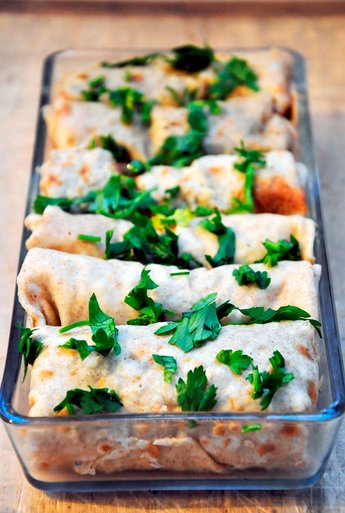 Ingredients
2 cups whole wheat flour (see cooking tips below)
250 ml water
2 eggs
Oil – for frying
12 oz mushrooms (Portobello, Champignons)
½ cup canned corn
1/2 cup chopped parsley
1/2 cup chopped dill
1/2 cup white wine
1 big onion, chopped
sea salt, to taste
1/3 tsp ground pepper
1/2 tsp ground coriander
1tsp sweet paprika
1 tsp garlic powder
Sauce:
2-3 garlic cloves, mashed
2 tbsp water
a pinch of sea salt
1 tsp olive oil
4 tbsp tomato juice (or you can scoop out the inside of 1-2 soft tomatoes)
1-2 tsp chopped chives
Instructions
Whisk the eggs. Add the water and mix well (you can also use a hand-held mixer).
Sprinkle the flour while continuously whisking/mixing until it has the right consistency.
Heat some oil in a frying pan over medium high heat. Grease the whole surface of the pan and then pour the oil in a cup. You'll be reusing it.
Pour the batter in the pan, using approximately ¼ cup for each crepe. Tilt the pan with a circular motion so that the batter coats the surface evenly.
Cook the crepe for about 2 minutes, until the bottom is light brown. Loosen with a spatula, turn and cook on the other side. Repeat the process until you use up all the batter.

For the filling:

Add the mushrooms and wine in your food processor. Blend until you get a thick paste.
Heat some 1 tbsp oil in a large saucepan.
Add the chopped onion. Sauté until golden, then add the mushroom paste and corn.
Add spices – salt, pepper, coriander, garlic powder and sweet paprika.
Cook for 15 minutes ten add the chopped dill and parsley and cook for another 5 minutes.
Let it cool for at least 10 minutes before assembling the crepes.
Fill the crepes using about 1 ½ tbsp of filling / crepe.
Serve!

Sauce:

Mix all ingredients above and pour sauce over the mushroom crepes.
Notes
The desired consistency should be like yogurt – not too thick, not too thin.

You may need to add more flour or water, it depends.
https://stlcooks.com/vegan-mushroom-crepes/
Recipe and Photo: Foodista / CC BY