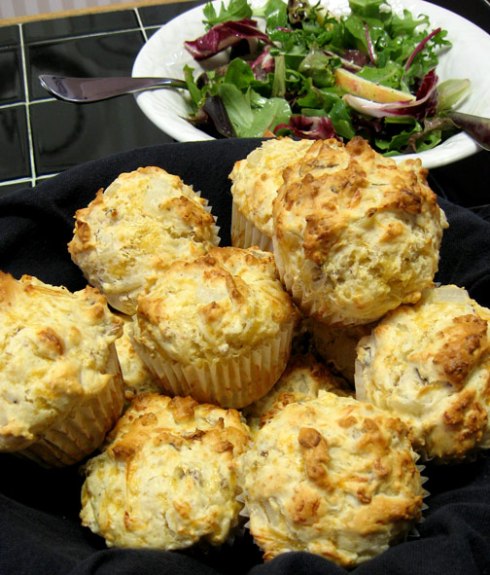 Recipe: Vidalia Cheddar Pecan Muffins
Ingredients
¾ cup chopped pecans
3 tbsp. butter
1 large Vidalia onion, chopped (1½ cups to 1¾ cups)
2½ cups all-purpose baking mix (I used Bisquick.)
1½ cups (6 oz. ) shredded Cheddar cheese
¾ cup milk
2 large eggs
Instructions
Preheat oven to 350 degrees. Bake pecans in a single layer in a shallow pan 6-8 minutes or until lightly toasted and fragrant, stirring once halfway through.
Meanwhile, melt 3 tbsp. butter in a medium-size nonstick skillet over medium-high heat; add Vidalia onion, and saute 6-8 minutes or until onion is tender and begins to caramelize. (I let the onions cool before I added them to the mixture.)
Remove pecans from oven; increase oven temperature to 425 degrees.
Combine baking mix and cheese in a large bowl; make a well in center of mixture. Whisk together milk and eggs; add to cheese mixture, stirring just until moistened. Stir in onion and pecans. Spoon into a lightly greased muffin pan, filling almost completely full. (I used paper muffin liners and sprayed each liner with a little canola oil.)
Bake at 425 degrees for 14-16 minutes or until golden. Let cool in pan on a wire rack 2 minutes. Remove from pan to wire rack. Let cool 6-8 minutes. Serve warm with butter.
Variations
Omit pecans. Preheat oven to 425 degrees. Toss one peeled and chopped Granny Smith apple with tsp. sugar in a small bowl. Prepare recipe as directed, stirring apple into batter with onion. Bake 14 minutes.
Recipe and Photo: Imagine Mechanix / CC BY-ND