Jump to recipe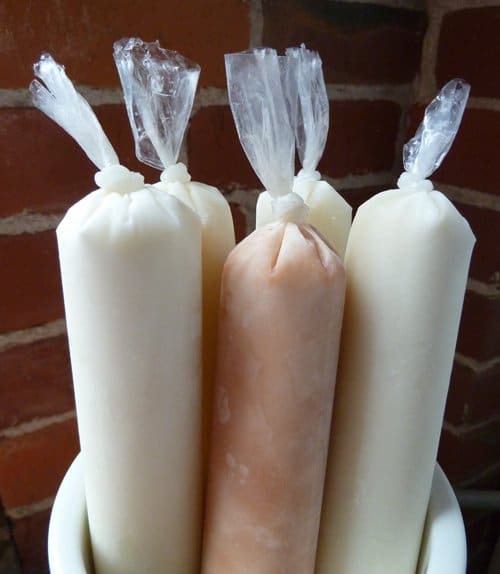 Notes
Ice candy is typically made using long plastic bags that are tied at the top. These bags are usually 1½x10 inches and from what I hear, can be found in the US in Filipino markets. I didn't have a chance to get to my usual spots, but I found 2×10 inch bags on eBay, which produce a thicker ice candy, which was just fine with me. Use your favorite popsicle mold if you can't find the bags.


You can also swap out the Fruit Loops for other cereals that you already love.

Ingredients
Fruit Loops Cereal Milk
2 cups (100g) Fruit Loops
3¾ cup (825g) cold milk
2 Tbsp (30g) tightly packed light brown sugar
¼ tsp (1g) kosher salt
Cereal Milk Ice Candy
2 cups cereal milk
½ cup heavy cream
½ cup sugar
Instructions
To make the cereal milk:
Crush the Fruity Pebbles with your hands until it's the texture of coarse sand.
In a large pitcher, add milk and crushed cereal and stir vigorously. Steep mixture for 20 minutes at room temperature
Strain milk into a bowl using a fine mesh sieve
Whisk brown sugar and salt into the milk until fully dissolved. Store in a glass pitcher or milk jug, refrigerated, for up to one week.
Place all the ingredients in a bowl or blender and stir to combine. Use a funnel to fill the bags leaving enough room so you can tie them off at the top. Tina at Pinay in Texas has some really good instructions on how to do this. Place ice candy on flat on a tray or plate and put them in the freezer for at least 8 hours. When they're ready, the ice candy will be firm but not rock hard. Cut the knot off the ice bag and enjoy!
Recipe and Photo: inuyaky / CC BY