Jump to recipe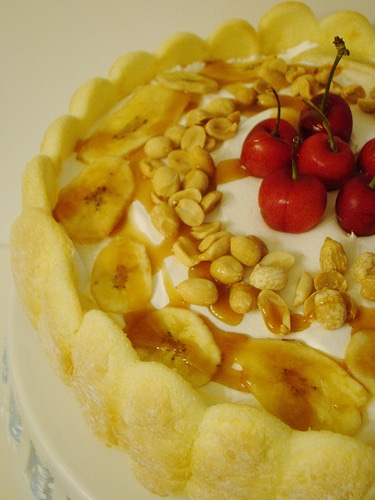 Vegan Banana Split Cake

Ingredients
1 package vegan lady fingers
2 cups flour
2 teaspoons baking powder
1 teaspoons baking soda
1/2 cup vegetable margarine
1 cup raw sugar
1/3 cup agave syrup
1/2 cup soy milk
Instructions
Mix all ingredients together and pour into cookie mold and bake 15 minutes at 325 degrees. Cool and then lift out of pan.
Take a spring pan and line it with the fingers.
In mixer, beat 16 oz Tofutti cream cheese, 2 bananas, and then fold in 2 cups nut kreme.
Mix 3 tbsp agaragar with 1 hot cup of your favorite fruit juice and 1 cup raw sugar. Stir to dissolve. When it is cooled to warm, combine with the kreme. Fold in 1/2 cup carob chips. Fill your mold and refrigerate 1 hour.
Use 12 ml syringes and load with your favorite syrups ( I used strawberry, kiwi and raspberry) Inject into the cake. Spread 1 cup of nut kreme over the top and refigerate overnight.
Garnish with peanuts, cherries and banana chips.
Recipe and Photo: Vegan Feast Catering / CC BY