Jump to recipe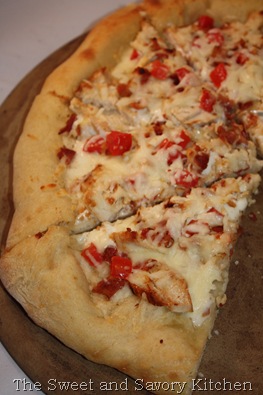 Chicken Bacon Ranch Pizza

Ingredients
1 pizza crust (homemade, pre-made or store bought)
Extra-virgin olive oil
2 garlic cloves, minced
½ cup ranch dressing
1 boneless, skinless chicken breast, cooked and sliced into small strips
1 to 2 roma tomatoes, seeded and diced
1 to 2 cups shredded mozzarella cheese
4 to 6 slices of bacon, cooked until crispy and crumbled
1 tablespoon fresh parsley, for garnish if desired
Instructions
Pre-heat the oven to 425 degrees. Place stoneware in oven to preheat for 20 to 30 minutes. Place shaped dough on stoneware after it has been preheated. Brush edges with extra-virgin olive oil and place into oven. Pre-bake the crust for 5 minutes.
Once dough is pre-baked, remove from oven and begin topping with ingredients. Spread ranch dressing in an even layer over the crust. Top with minced garlic, chicken, bacon, tomatoes and mozzarella cheese.
Return to the oven and bake until the cheese has melted and the crust is golden brown, about 5 to 7 minutes. Remove from the oven and top with fresh parsley.
Recipe and Photo: Whole Lotta Oven / CC BY