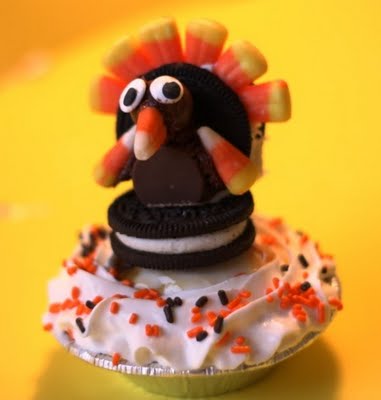 Ingredients
Turkey Cookie Ingredients:

Oreo Double Stuff Cookies (2 for each turkey)
Candy Corn (9 for each turkey)
Mini Reeses Peanut Butter Cups (1 for each turkey)
Whoppers Candy (1 for each turkey)
Edible Eyeballs (or use vanilla frosting and a mini chocolate chip)
Vanilla & Chocolate Icing

Sundae Ingredients:

Mini Graham Cracker Pie Shells (we used Keebler Ready-Crusts, available in the baking aisle)
Ice Cream
Toppings
Whipped Cream
Sprinkles
Instructions
Carefully slice the edge off of one of your double stuff oreos. Open oreo and generously spread extra vanilla icing inside. Add Candy Corn "feathers" and close the cookie.
Spread icing on the cut side of your cookie and attach to the second oreo.
At this point, I started using chocolate icing since it blended better, but you can still use vanilla if you want. Cut a small piece off the bottom of your reese's cup and attach to cookie with icing. Add a Whopper for the head, two candy corns for the "wings", eyeballs, and a candy corn "beak". You can also tint some icing orange and add feet, but I didn't to that (we will on Thanksgiving Day). This turkey is ready for his Sundae Nest!
Gather the mini pie crust shells and your favorite ice creams, toppings, etc..Make a sundae and add whipped cream and sprinkles around the border.
https://stlcooks.com/turkey-sundaes/
Recipe and Photo: Gourmet Mom On The Go / CC BY (Be sure to visit Gourmet Mom On The Go to see step by step photos for this recipe!)