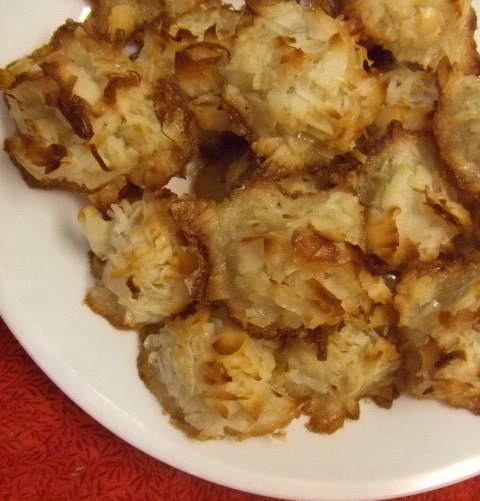 Ingredients
1 cup cream of coconut (not coconut milk; find near non-alcoholic margarita mix)
2 tablespoons light corn syrup
4 large egg whites
2 teaspoons vanilla extract
1/2 teaspoon salt
3 cups sweetened coconut
3 cups unsweetened coconut
Instructions
Whisk together coconut cream, corn syrup, egg whites, vanilla extract, and salt in a bowl. Whisk well to combine. In a separate bowl, stir together both kinds of coconut and the flour. Break apart any clumps of coconut. Add the dry mixture to the egg mixture and mix well to combine. Chill for about 15-30 minutes.
Preheat oven to 375F. Line baking sheets with parchment paper.
Form tablespoon-sized mounds of coconut mixture on prepared baking sheets; place about 2-inches apart. If mixture seems pretty soupy and you have a hard time molding into balls or pyramids, add more coconut to help even out the consistency.
Bake about 15 minutes, rotating baking sheets halfway through cooking. Cookies should be browned on tops, but still chewy and moist inside. Let cool on pans for a couple minutes to harden slightly, then transfer the cookies to wire racks to cool.

STORAGE:

Store cookies in an air-tight container at room temperature.
https://stlcooks.com/triple-coconut-macaroons/
Recipe and Photo: Sweet Climate / CC BY