Jump to recipe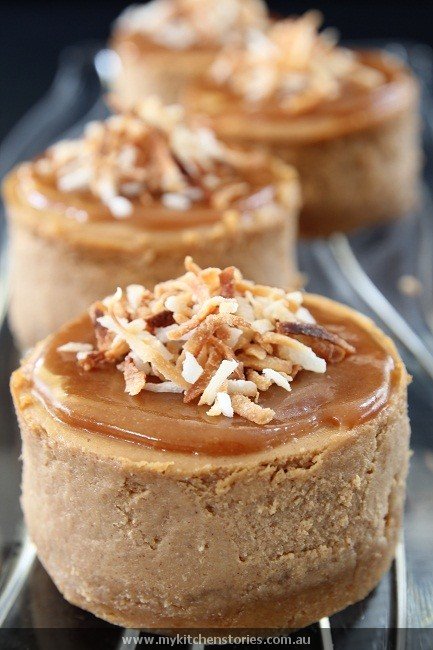 Sweet Potato Coconut and Caramel Cheesecakes

Notes
Note you will need cooked sweet potato for the recipe . Oven 160 deg ( 320deg F)

Ingredients
Crumb base
200gm biscuits (Biscuits is Australian for what American's call cookies. I used N.Z Griffins "Krispie" cause they are coconuty, but feel free to use the cookie of your choice)
7 Tablspoons ( 80gm)melted butter
1 Tablespoon of caster sugar
Filling
1x packet (250gm/1/2 lb) cream cheese
1 cup of cooked cooled sweet potato
1/2 cup of brown sugar
2 eggs
1/2 cup of coconut cream or coconut evaporated milk
Vanilla
1.5 teaspoons of ground ginger
1.5 teaspoons ground cinnamon
Topping
6 Tablespoons of castor sugar
1 Tablespoon water
50ml ( 1/4) cup coconut evaporated milk or coconut cream
100gm unsalted butter ( 3.58 OZ)
pinch of salt
Instructions
Crush the biscuits in a food processor and add the sugar and melted butter. Push this into the base of 6 individual tins or 1x 20cm (9 in ) springform tin. Bake till firm or approximately 8 -10 minutes.
Put all of the filling ingredients into the food processor and blitz till smooth. Pour into the case/s. For small sized cheesecakes bake 30 mins, but a little longer if big ( till they just feel firm, approximately 40-50 minutes).
Set in the fridge overnight or as long as possible before unmoulding, by running a warm knife around the cheesecake before removing the spring form.
Topping…have everything ready to use before you start. Place the sugar for the topping into a small saucepan with the water. Turn the heat onto medium and let the sugar dissolve and turn a lovely golden brown colour . Remove from the heat and stir in the coconut ( be careful) stir till incorporated then gradually stir in the butter till well combined. Add a pinch of salt. Taste
Cool this before spooning onto the tops of the cheesecake. Set in the fridge
Decorate with toasted sweetened coconut if you like.
Recipe and Photo: My Kitchen Stories / CC BY-SA