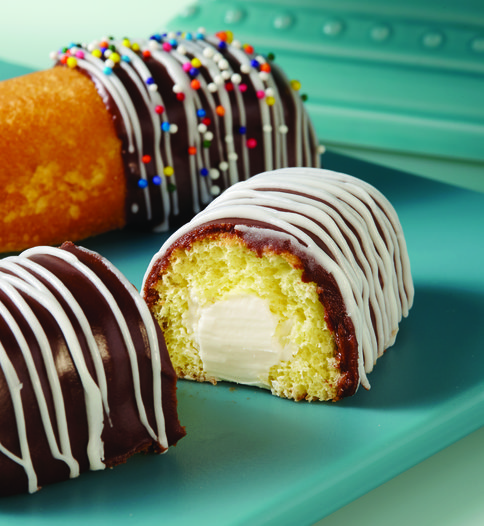 Snack Cakes are an Anytime Favorite Dessert
(Family Features) Between the sweet filling, individual size and nostalgia of this tasty treat, there's much to love about snack cakes. They are an excellent addition to any dessert table, and in just moments can go from traditional to trendy depending on the occasion.
"Whether your snack cakes are homemade or store bought, they serve as a great base for decorating," said Nancy Siler, vice president of consumer affairs at Wilton. "These versatile treats look terrific in their classic form, but you can easily decorate them to add a playful twist."
Try these tips from Wilton for customized Snack Cake creations.
Classically Simple – If you're going for a traditional look and taste, try using Wilton's Snack Cake filling for a rich vanilla flavor with a perfectly light, fluffy texture. Then top your cake with Icing Glaze, it's easy to heat and pour for a professional looking finish.
Play Dress Up – Add personality to snack cakes with giant lips, mustaches, sunglasses or huge googley eyes. Then watch for smiles as guests visit the dessert table.
Tasty Transformations – Turn a snack cake into a school bus, bumble bee or a race car with Wilton's Decorating Kits. It's the perfect complement to a child's birthday party or any themed occasion.
Icing Illusions – Play with your Snack Cakes for a creative twist on a personalized dessert. Slice a snack cake in half and layer on red, yellow and green icing to mirror the look of a hot dog. Or stand a snack cake on end and add a candy flame on top to create a birthday candle.
For more snack cake recipe ideas, baking tips and inspiration, visit www.wilton.com.
Sweet Memory Snack Cakes
1/2     cup sifted cake flour
1/2    teaspoon baking powder
1/8    teaspoon salt
3    eggs, separated
1/4     teaspoon cream of tartar
1/2    teaspoon Wilton Imitation Clear Vanilla Extract
3     tablespoons granulated sugar
Vanilla Treat Filling
Chocolate Icing Glaze
Vanilla Icing Glaze
Rainbow Nonpareils (optional)
Preheat oven to 375°F.  Prepare Delectovals pan with vegetable pan spray.
In small bowl, sift together flour, baking powder and salt. In large bowl, whip egg whites with electric mixer until foamy. Add cream of tartar and whip until stiff, but not dry. In clean bowl, whip egg yolks 1 minute; add vanilla and gradually add sugar, whipping until mixture is pale yellow and doubled in volume. With rubber spatula, fold 1/3 of egg whites into yolks to loosen; fold in remaining whites until nearly combined. Add flour and fold until no streaks remain. Fill cavities about 3/4 full with batter; smooth the tops.
Bake 6-8 minutes or until top is lightly browned and center springs back when touched. Cool in pan on cooling grid 5 minutes. Run a 9 in. spatula around edges of Delectovals to loosen. Remove from pan; cool completely.
Using Bismarck Tip #230, pipe filling into the bottom of cooled snack cakes in 3 spots. Dip half of snack cake in chocolate icing glaze, or spoon heated glaze over cakes, as desired. Place on cooling grid set over parchment-lined cookie pan; let set. Drizzle heated vanilla icing glaze over snack cake and immediately sprinkle with rainbow nonpareils if using.
Makes 12 snack cakes.
#11866
Source: Wilton Products