Jump to recipe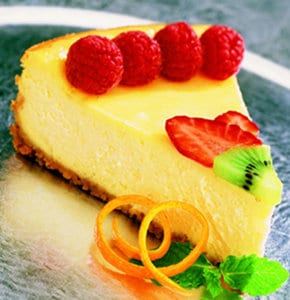 Sunburst Cheesecake

Ingredients
Crust
1 1/2 cups graham cracker crumbs, cinnamon or plain
1/2 teaspoon ground cinnamon
3 tablespoons sugar
6 tablespoons unsalted butter, melted
Filling
5 (8-ounce) containers cream cheese, room temperature
1 3/4 cups sugar
1/4 cup all-purpose flour
2 teaspoons pure vanilla extract
1 1/2 teaspoons freshly grated lemon, orange or lime peel
6 large eggs
1/2 cup sour cream
Glaze and topping
1/2 tablespoon cornstarch or arrowroot
1/2 tablespoon unsalted butter
1/2 cup orange juice
1/3 cup each, fresh: sliced strawberries, blueberries, sliced peaches, sliced kiwis
Instructions
Must prepare day ahead
For crust, combine graham cracker crumbs with cinnamon and sugar. Mix in melted butter. Press onto bottom and sides of 10-inch springform pan.
Preheat oven to 500°F. For filling, beat cream cheese in large bowl, scraping down sides to mix thoroughly. Continuing to mix on medium-high speed, add sugar, flour, vanilla and lemon, orange or lime peel. When thoroughly blended, add eggs, one at a time, beating well after each addition. Blend in sour cream. Pour into unbaked crust. Bake at 500°F 12 minutes. Lower heat to 200°F and bake 60 minutes more. Turn heat off and cool in oven 60 minutes. Remove from oven and cool at room temperature 30 minutes. Cover and refrigerate overnight before topping with glaze and fruit.
When ready to glaze, in small saucepan mix cornstarch or arrowroot with butter. Heat until butter melts, but do not allow to brown. Stir in juice. Bring to boil over medium heat, stirring constantly. Boil one minute. Cool to room temperature. Spoon over cooled cheesecake and top with fruit.
For more inspiration and great recipes visit Horizon Organic Dairy
Recipe and Photo Courtesy of Horizon Organic Dairy