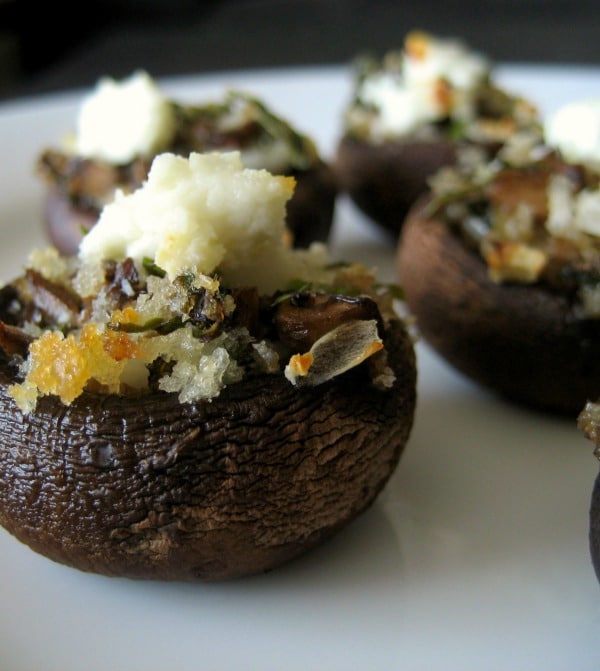 Stuffed Portabello Mushrooms
Ingredients
8 oz. baby bella mushrooms
2 cloves garlic, minced
1 scallion
approx. 3 tbsp. minced fresh herbs (I like parsley, basil, and oregano)
2 tbsp. Italian bread crumbs
1-2 tbsp. EVOO, divided
1 tbsp. butter, cold
kosher salt
lemon pepper (McCormick' California Style)
1 tbsp. goat cheese, crumbled
Instructions
Lightly oil a small baking sheet with olive oil. Carefully wash your mushrooms and remove the stems, I just use a damp towel to wash the mushrooms, do not douse them under running water. Use a pastry brush to oil the mushroom caps and place them gill-side up on the oiled baking sheet.
Mince mushroom stems and place them in a small bowl. Add minced garlic, scallion, and herbs. Stir. Add bread crumbs and about a teaspoon of olive oil, salt and pepper. Mix well. Spoon filling into mushroom caps, pressing gently so the stuffing stays in. Cut cold butter into small pieces and place a small piece on top of each stuffed mushroom cap.
Broil for about 3-4 minutes, then remove and place crumbled goat cheese on top of each one. Put back under the broiler for another 3-4 minutes, until cheese is lightly browned and mushrooms are fragrant. Serve immediately.
https://stlcooks.com/stuffed-portabello-mushrooms/
Recipe and Photo: Ordinary Food Made Gourmet / CC BY-SA