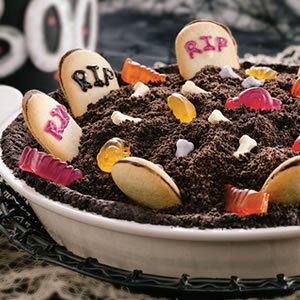 Ingredients
3 cups (about 32 cookies) finely ground chocolate sandwich cookie crumbs, divided
3 tablespoons melted butter
1 can (12 fl. oz.) Evaporated Milk
2 large egg yolks
2 tablespoons cornstarch
1 3/4 cups (11.5–oz. pkg.) Chocolate chips
8 chocolate filled vanilla wafer cookies
Black and purple decorator writing gels
assorted spooky Halloween candies
Butterfinger and Nestlé Crunch candy bars, crumbled
Instructions
COMBINE 1 1/2 cups cookie crumbs and butter in 9-inch deep-dish pie plate. Press crumb mixture onto bottom and upsides of pie plate. Set aside remaining 1 1/2 cups crumbs for dirt topping.
WHISK together evaporated milk, egg yolks and cornstarch in medium saucepan. Heat over medium-low heat, stirring constantly, until mixture is very hot and thickens slightly; do not boil. Remove from heat; stir in morsels until completely melted and mixture is smooth.
POUR into crust. Sprinkle with remaining 1 1/2 cups cookie crumbs. Press crumbs down gently. Refrigerate for 3 hours or until set.
DECORATE cookie tombstones as desired with writing gels. Sprinkle crumbled candy bar topping over the top of the pie. Insert tombstones around edge of pie. With spoon, mound cookie crumbs to form "fresh graves." Decorate graves with gummies and Skulls & Bones to make the pie as spooky as you want it to be!
https://stlcooks.com/spooky-graveyard-pie/
Recipe and Photo: Nestlé