Jump to recipe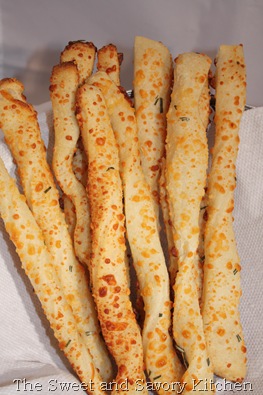 Ingredients
1/4 cup grated Parmesan
1/3 cup mozzarella
1 teaspoon chopped fresh rosemary leaves
1 (11 0z) container refrigerated breadstick dough, such as Pillsbury
Instructions
Preheat oven to 350 degrees.
Line baking sheet with parchment paper. In a food processor, chop parmesan, mozzarella, and rosemary together until coarsely chopped. Set the cheese mixture aside. Separate the dough strips. Using a pizza cutter or a large sharp knife, cut each dough strip in half lengthwise to form thin strips. Working with one dough strip at a time, coat each strip with the cheese mixture, pressing very gently. Twist each cheese covered dough strip and place onto prepared baking sheets.
Bake until breadsticks are golden brown, about 10 to 15 minutes. Transfer the warm breadsticks to a basket and serve.
Recipe and Photo: Whole Lotta Oven / CC BY